You can propagate or even grow Monstera in water. But there is a little more you need to know before putting this in water if you want it to flourish.
We have everything you need to know about growing Monstera in water, including pros, cons, the water to use, care (temperature, light, fertilizer, etc.).
Can Monstera live in water?
Yes, Monstera can live in water indefinitely. But you need to provide other necessary care needs and fertilizer. Not everyone agrees with some schools of thought claiming that Monstera isn't an aquatic plant. So, it cannot survive in water for long.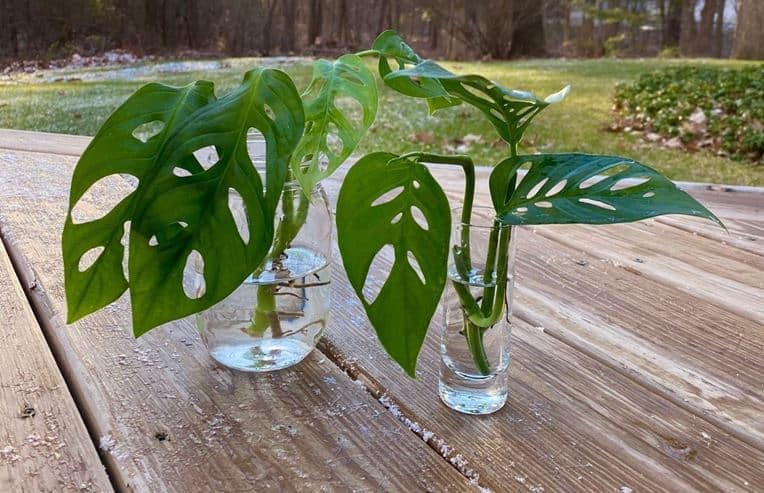 Plants need nutrients, water, carbon dioxide, and light to grow. They don't need soil so long as you can provide them with nutrients. This is why many people have turned to hydroponic farming, which skips soil. There is even an option of semi-hydroponic that uses inorganic medium, especially LECA.
It goes without a say that your Monstera and many other houseplants, including your Pothos, African violets, philodendron, lucky bamboo, spider plants, Chinese evergreen, etc., can grow in water.
But it doesn't mean you just put the plants in water and place them in bright direct light. There is more. You need to provide nutrients and keep the water aerated. And, indeed, these plants will even grow faster since they can easily access nutrients.
Besides using water only, you can use soilless growth media like Rockwool, coco coir, peat moss, perlite, clay pellets like LECA, rice hulls, sand, sawdust, wood chips, vermiculite, pumice, and so on.
If you opt for hydroponic systems, don't forget an oxygen-rich nutrient solution is a must. For water alone, you have to change the water and have fertilizers.
Which water to use?
Monstera is a hardy plant that can tolerate normal tap water. So long as it is not high in chlorine, fluorine, or salts. Let the water stand on an open container overnight to help dissipate excess chlorine.
If possible, use filtered or rainwater because they don't have the excess salts that may alter pH. Remember, these plants thrive well in a slightly acidic, neutral pH (5.5 to 7.0).
Last but not least, if your well or underground water has a pH of more than 7.5, don't use it for your Monstera.
Growing Monstera in water pros and cons
Imagine having your Monstera in a vase filled with water and vividly seeing the roots growing. It seems like such alluring beauty. Doesn't it? But before you switch to this method, you need to know it has its pros and cons.
Pros
What makes growing Monstera in water attractive to some people?
It is less messy: You don't have to deal with soil when repotting or preparing a mix for your plant. Also, your pets like rabbits, cats, hamsters that do dig won't do so, messing your home.
Deals with Monstera underwater or overwatering: Since it doesn't need watering, you no longer have to worry about overwatering or underwatering your Monstera. Both these two are common problems in houseplants grown in soil.
Cheaper and readily available: Water is less affordable than buying potting mix. You don't have to buy peat moss, perlite, potting mix, etc.
Lesser instances of pests: Growing Monstera in water will result in fewer pests cases, especially fungus gnats that lay eggs in the soil and their larvae stage lives in soil. Also, your plants cannot get any other pests that don't fly, like spider mites and scale. They cannot reach your plant.
You can monitor your plant: If grown in a transparent vase, you can monitor your plant root condition. By so doing, it is easier to detect issues such as Monstera root rot.
Easier to transplant: It is effortless and less messy to move your plant to a larger vase than repotting to a bigger pot when it comes to transplanting time.
Cons
As attractive it may seem, growing Monstera in water does have its downs or cons. Common ones include:
It is demanding and cumbersome: If you opt to put your Monstera in water, you must be content with the need to change the water after every 3 to 4 days. If your plant is large, the whole process may be cumbersome and tiring. It cannot compare to watering your plant.
The algae problem: In most instances, your water will end up with algae which will need extra effort to control. Using a translucent vase may help, but you will not see the roots growing.
Plants vulnerable to changes: When grown in water, changes in water quality, pH, nutrient deficiencies, or diseases will affect your plant faster? Why? Because soil would act as a buffer.
Size limitation: Monstera species can grow pretty huge, especially Monstera deliciosa, and water may not support the plant to remain upright as the soil would.
Staking is not easy: Water won't support your Moss pole or stake as the soil would. So, it would help if you had a more innovative way to stake your plant. You need somewhere else to anchor it.
Putting Monstera in water
If, after assessing each of the above pros and cons and you still want your Monstera to live in water, here are steps to follow to ensure success:
Step 01: Clean your plant
If it was initially growing in soil, you need to slide it out of the pot, work the roots with your fingers to loosen the dirt.
Afterward, please take it to your sink and gently wash the roots to remove any remaining soil. You can also use a soft brush to remove any potting mix that still adheres to the plant. By the end of this exercise, roots should be soilless.
Step 02: Cut any brown or black roots and apply fungicide
Thoroughly inspect the roots, and if you see any, cut them off with sterilized pruning scissors. Use 70 to 90% rubbing alcohol to disinfect your scissors.
Afterward, apply a fungicide to prevent reinfection. We recommend using it even if you don't have root rot instances.
Step 03: Put your plant in water
Add some water to your jar dip your plant inside it. Pick a large and long container to hold the plant upright. While doing so, ensure no leaves touch the water. Otherwise, they will begin rotting.
Caring for Monstera in water
The success you achieve growing your Monstera adansonii, deliciosa, obliqua, siltepecana, standleyana, or the species you have in water depends on the care you provide. Otherwise, your plant may grow slowly and have other problems.
Here is the care and growth needs or requirements:
Change water after 3 to 4 days: Fill the water when levels drop and change it after 3 to 4 days or when it looks cloudy.
Provide bright, indirect light: Place your plant in an area with bright indirect light. Avoid too little light as it will cause stunted growth and yellow leaves. Also, note that too much light will cause sunburn.
Keep optimum temperature: Maintain an ideal 65 to 85 degrees Fahrenheit temperature, i.e., 18 to 29°C. Also, avoid heat stress, sudden temperature changes, or cold drafts.
Feed plants with hydroponic fertilizer: Since they don't have access to soil, you need to feed them with a liquid fertilizer intended for hydroponic systems and follow use instructions. A good pick is General Hydroponics, Flora Grow. But there are many other excellent brands.
Pruning when necessary: Use sterilized pruning shears to cut any dead or diseased leaves. You can also cut back some stems to control growth and shape in spring or summer.
Transplanting if they outgrow the current container: Move your plant to a larger one when the root ball overgrows the jar you are using. It should be a few inches larger in diameter and deep enough.
Give them support or stake: Since they are climbers, get them a trellis or a moss pole and train or mount them. They will reward you with more giant, split, or fenestrated leaves.
Root rot
Monstera root rot is possible even if you grow these plants in water. Poor sanitation, contaminated water, not changing water, among other factors, may result in this problem. What should you do?
The good thing is you can detect the rot early. Remove the plant from your jar and discard the water.
Next, disinfect it using 10% bleach solution (1 part of bleach solution to 10 parts of water), thoroughly rinse it, and fill it with fresh water.
Afterward, use a sterilized pruning shear, and cut roots above the decayed place. Apply some fungicide to prevent reinfection and put it back in the jar.
Frequently asked questions (FAQs)
How long can Monstera live in water?
If you follow the above care guide, your Monstera can live in water indefinitely. It will remain healthy and continue growing as usual. But if it grows too large, keeping it in water may be a challenge.
Can I grow Monstera in an aquarium?
Yes, if it doesn't have fish, and no if it does. Don't grow your Monstera in an aquarium with fish because the plant food you use will affect your fish. If they do have fish, it's ok.