From faux to real Monstera leaf to Monstera-themed earrings, wallpapers, painting, clipart, outline, etc., the popularity of this tropical houseplant is not in doubt.
People love Monstera due to their breath-taking lovely split, and fenestrated (perforated)leaves. These houseplants are easy to care for and are air-purifying.
Monstera deliciosa is the most popular, followed by adansonii. There are others also like obliqua, siltepecana, standleyana. You will even get variegated plants like Thai Constellation and var. borsigiana Albo variegata.
If you don't have plants, you can still buy Monstera leaves or go for faux ones if you are one of the people who don't have plants. They will add a unique tropical appeal to weddings, birthdays, anniversaries, dinners, or other events.
You can use your Monstera leaves in a vase, as a centerpiece, on wedding arches, dinner table adornment, garland, among many other ways. Your creativity is the only limitation.
Where to buy
If you are looking for Monstera leaves for your special event, be it a wedding, special dinner, or any other reason, here are places to buy them:
1. Sam's Club
Sam's Club, a Walmart Inc. division founded by Sam Walton, is a great place to buy Monstera leaves all year round. You can order online or go to any of their over 600 clubs across the United States of America and Porto Rico.
Their US-grown leaves are available in one size, about (6–10 inches tall and 12-14 inches wide, and go for approximately $9.00 per Monstera leaf.
You can order a bunch of 10 or 25 Bunches with a 10-bunch going for $89.98. But remember to get your delivery at least two days before your event.
2. Fifty Flowers
Founded in 2003 by Liza, Fifty Flowers is one great place to buy your solid green or variegated Monstera leaves. Besides these leaves, they also have over 100 different flowers and tropical combos. We bet you cannot miss colors that will compliment your anniversary, wedding, or any event.
Fifty Flowers sells small, medium, large and extra leaves harvested from the Tropical jungles of Ecuador packaged in bunches of 5.
| | | |
| --- | --- | --- |
| Size | Width (inches) | Length including stalk (inches) |
| Small | 12 | 25 |
| Medium | 15 | 34 |
| Large | 22 | 47 |
| Extra-large | 28 | 57 |
How much do they sell? It depends on which ones you want. Their wholesale prices range from 1.45 per small Monstera leaf to $18.67 for an extra-large variegated one. The exact amount you will pay will depend on the package you choose or how much you buy.
Last but not least, Fifty Flowers doesn't ship any greeneries to Hawaii. If you are in Alaska, you will incur an extra surcharge of $45 per box.
3. Aloha Hawaiian Flowers and Gifts
Based in Kailua-Kona, HI 96740, Aloha Hawaiian Flowers and Gifts is another excellent place to order Monstera leaves. They also sell occasions leis, flower bouquets, wedding flowers, gift baskets, other plants, and foliage.
Their price is $3.30 for a mini, $3.80 for a small, $3.90 medium, and $4.00 large Monstera leaf. They ship everywhere in the US except California due to state regulations.
4. Fabulous Flowers
Fabulous Floral boasts of WeddingWire Couple's Choice Awards 2019. Also, they are a Member of the Society of American Florists. Whether it's the foliage, bouquet, or flower gifts, they have them all
Their Monstera leaf price is $4.95 for mini (8-9 inches wide), $6.00 for small (9-12 inches wide), $7.00 for medium (13-16 inches wide), and $8.50 for large (17-20 inches wide) leaf. Remember to place your order at least seven days before your event.
5. Whole Blooms
The final place to get Monstera leaves is Whole Blooms from South America and US farms. They strive to meet all the environmental standards and ensure their flowers are nothing short of the best.
They also sell other foliage, branches, flowers (dried, wedding flowers), gift cards, and other items.
Each Monstera leaf is about 9 to 12 inches and comes in a five bundle. Depending on how much you buy, expect to spend between 13.50 to 19.00 per punch (five pieces).
Care
Monstera leaves can last for eight days if handled and cared for well. Before shipping, vendors will properly hydrate them. But they may look a little thirsty when they arrive. Don't worry.
Here is how to care for these leaves:
Unpack and mist
Carefully unpack the flowers immediately you receive them, i.e., remove any protective packaging (paper, form, etc.) and mist them.
Hydrate them for about two hours
Fill a clean vase or a container with fresh, clean water. Then, use a sterilized sharp knife to cut the stalk about ½ an inch from the end at a 45-degree angle and dip the stem in water. Don't let the leaves (lamina touch the water).
Let them hydrate for about two hours. They are now ready for use.
Maintain optimum temperature
If you want them to last longer, maintain a temperature range of 55-75 degrees Fahrenheit (13 to 24°C). Avoid temperatures below 55°F, refrigerating your leaves or placing them in direct sunlight.
Mist them daily
Besides the optimum temperature, we recommend misting these leaves every day.
Change water after 2 to 3 days
If you keep them in water throughout, you need to change the water every 2 to 3 days and recut the stem.
Faux Monstera leaf
Not everyone is ready to use real Monstera leaves. Why? Because they may be expensive, require maintenance, come with an out-of-season cost, quickly wither, and get damaged, among other issues.
If you are one of such people, you can opt for Monstera faux leaves. They are cheaper, durable, and don't require any care, among other benefits. Most of your guests won't even care.
Where to buy fake Monstera leaves?
Unlike real ones, faux Monstera leaves are more readily available. Here are some
1. Amazon
Amazon has many vendors of adorable faux Monstera leaves. Our winner is Aytai, with 24 pieces measuring 13.8 inches long by x11.4 inches wide for only $11.99. They feel soft, look real-like, are durable, and of excellent quality.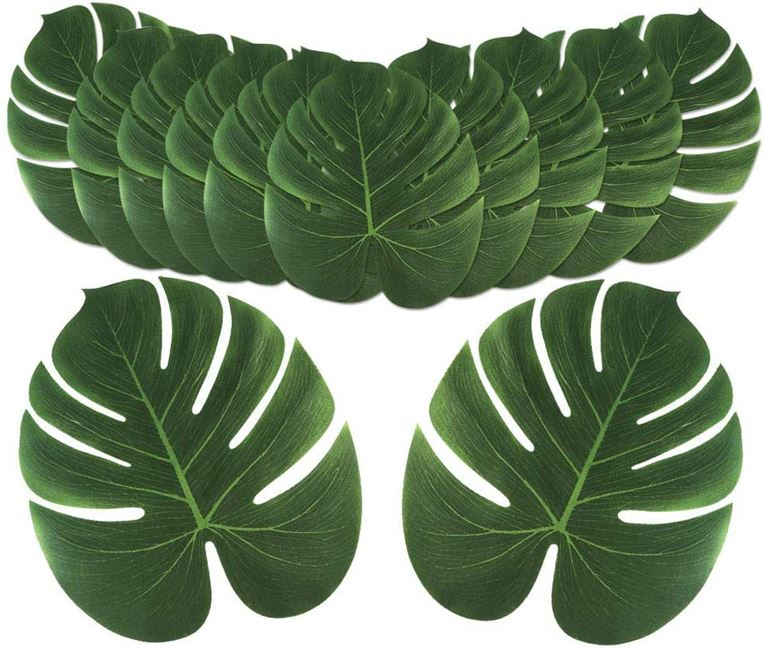 2. Etsy
Etsy.com offers one of the largest inventories of faux Monstera leaves. Our pick is You will get FlowerSquared who has the most realistic one made from Polypropylene and PEVA. This 24-inch bunch of seven leaves goes for just $17.95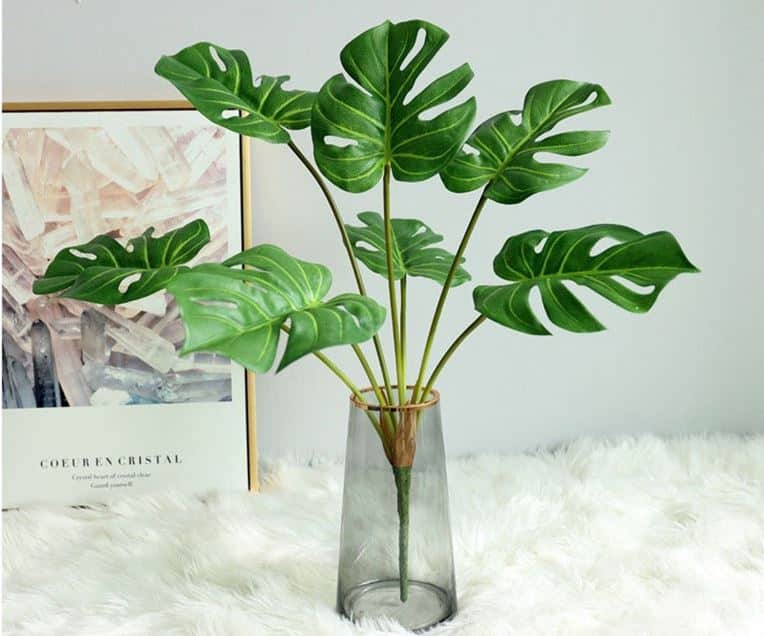 Buy:
3. CB2
If you don't mind spending a little more, CB2 has the most realistic Monstera frond with a glossy green color that measures 41.25 inches and 14.75 inches. It goes for $12.95.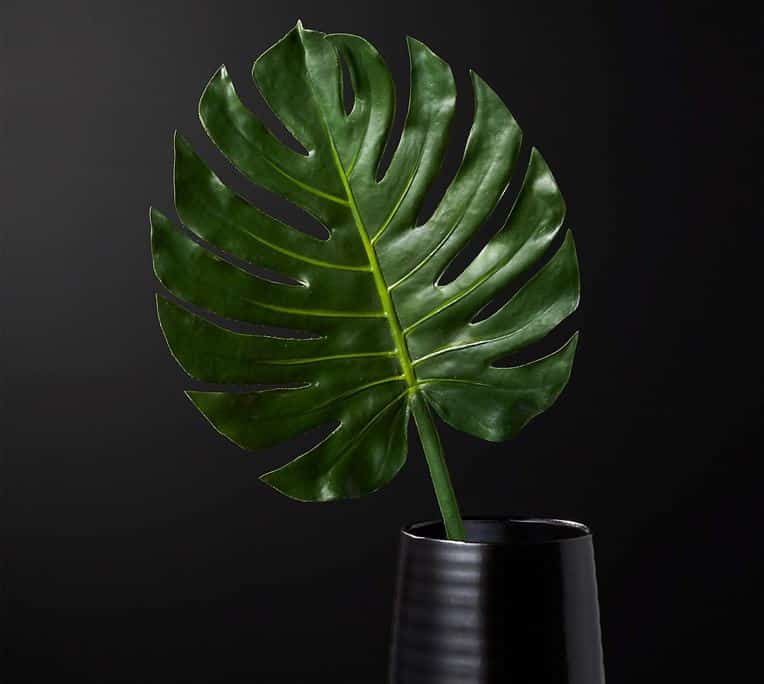 4. IKEA
If you need a lifelike, durable, and flexible artificial Monstera leaf, you can bend and look no further than IKEA. Thanks to the steel stem wire, the Artificial leaf, Monstera/green31.5 inches leaf, is bendable. It will remain to look fabulous all year round.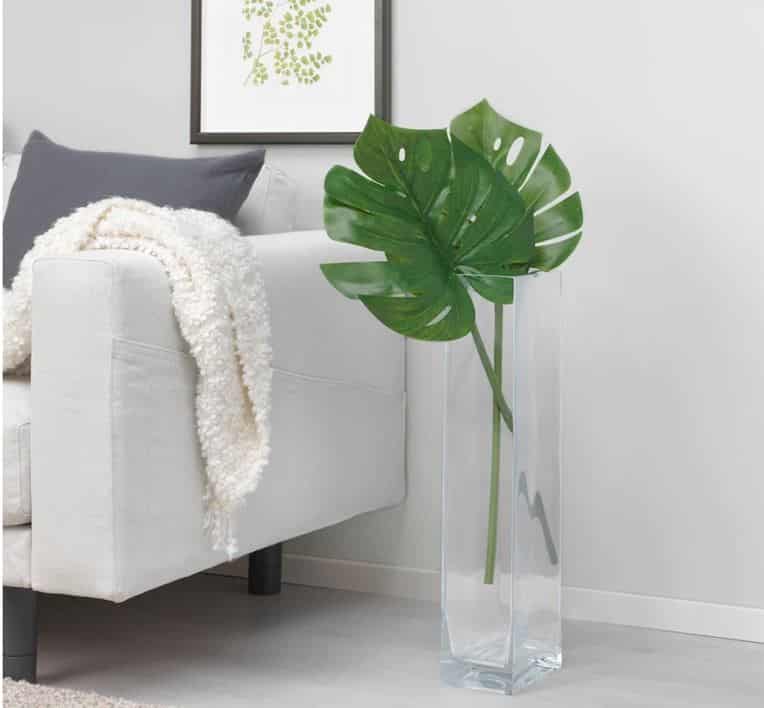 Price: $5.99 per piece