Before looking at Split-leaf Philodendron vs. Monstera deliciosa, you should know that Split-leaf Philodendron is a common name for Monstera deliciosa (1), Thaumatophyllum bipinnatifidum (2), and Philodendron selloum (3). The last two are the same plant.
We know it's a bit confusing. Isn't it? We will explain. Initially, Philodendron bipinnatifidum and Philodendron selloum different plants. Later it came to light that they were multiform of the same plant. And recently, in 2018, reclassified to genus Thaumatophyllum and known as Thaumatophyllum bipinnatifidum, as Quanta Magazine reports.
The initially Philodendron subg. Meconostigma is now a new genus, Thaumatophyllum. Even Philodendron xanadu is now Thaumatophyllum xanadu, among many other species. (4)
That said, our split-leaf Philodendron vs. Monstera deliciosa discussion will focus on comparisons between T. bipinnatifidum vs. Monstera deliciosa.
We are not going to talk about philodendrons. If interested, we have something exclusive on Monstera vs. Philodendron. It will tell you more about the similarities and differences between plants in these two genera.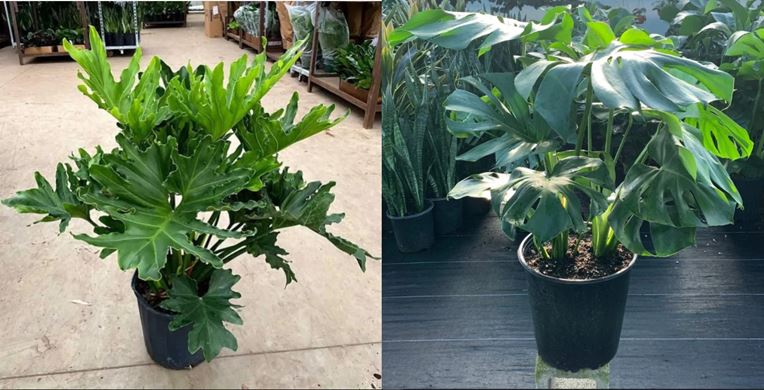 About Monstera deliciosa
Scientific name: Monstera deliciosa
Genus: Monstera
Subtribe: Monstereae
Family: Araceae (arum)
Common names: Swiss cheese plant, split-leaf Philodendron, ceriman, Hurricane plant, Cutleaf Philodendron, Mexican breadfruit, Windowleaf
Native: Panama to southern Mexico
Monstera deliciosa is an evergreen rainforest hemiepiphyte (terrestrial and epiphyte). It grows as a terrestrial creeper in the baby (seedling) and juvenile stages. It grows as an epiphyte in the mature stage but can attain maturity without climbing.
This plant gets its name from two Latin words. Monstera means monstrous, referring to the abnormal leaves that get holes, and deliciosa means delicious, referring to the tasty fruits. Fully ripen Monstera deliciosa fruits are edible. Please, never eat them before they ripen.
That is not all. M. deliciosa is one of the most popular Monstera houseplants ranking ahead of Monstera adansonii, obliqua, siltepecana, standleyana, etc. Everyone loves the glossy, heart-shaped deep green leaves that become fenestrated (perforated) and split when the plant matures. Did you know they can get as big as three feet? They are a beauty.
Did you know that Monstera deliciosa has varieties like var. borsigiana, var. Brazil, var. Sierrana, var. Tauerii? Also, you will find rare and expensive variegated forms like Thai Constellation Monstera, borsigiana albo variegata, and aurea.
Depending on which one, it grows either as a stout plant that spreads sideways or as a climbing vine.
About Thaumatophyllum bipinnatifidum
Scientific name: Thaumatophyllum bipinnatifidum syn. Philodendron selloum or Philodendron bipinnatifidum
Genus: Thaumatophyllum
Subtribe: Philodendreae
Family: Araceae (arum)
Common names: Split leaf philodendron, Philodendron Hope selloum, tree philodendron, Hope Selloum, selloum, horsehead philodendron, lacy tree philodendron
Native habitat: Brazil, Bolivia, Argentina, and Paraguay
T. bipinnatifidum is a popular houseplant in temperature regions and a landscape plant in tropics, subtropics, and warmer temperature regions. You will find it in Florida and California.
Its native habitat, Tree Philodendron, can grow up to 15 feet tall and has a trunk-like woody stem that may reach up to 6 inches in diameter that can support it. But like Monstera, it does show hemiepiphyte growth behavior and can sprawl or spread over a large area.
People value it for its large (can reach up to 5ft), glossy, deeply lobed leaves with wavy margins. Also, it can tolerate a frost but not for a long time and can adapt to deep shade. The flowers are also showy, but they rarely flower under cultivation or indoors.
What is the origin of the name? If that is your question, you need to know that Thaumatophyllum loosely translates to Wonder Leaf. And the name bipinnatifidum comes from an amalgamation of bis (twice or double), pinna (feather), and findo (split), referring to the feather-like split leaves.
Split-leaf Philodendron vs. Monstera deliciosa
Now, it is time to look at the similarities and differences between split-leaf Philodendron (Thaumatophyllum bipinnatifidum) and Monstera deliciosa. We will start with similarities the tell you the differences.
Similarities
Besides sharing the same common name, i.e., split-leaf Philodendron, other similarities include:
Share the same family: Both plants belong to the arum family, Araceae, colloquially known as aroid.
Toxic to pets and humans: They both have insoluble calcium oxalate that makes them harmful or poisonous to humans, dogs, cats, and other pets. Chewing them will cause severe oral irritation, burning feeling, swelling, swallowing difficulties, drooling, and other symptoms.
Grow as hemiepiphytes: Tree philodendron and M. deliciosa grow as hemiepiphyte.
Inflorescent flowers on spadix: These two plants have flowers borne on a spadix and surrounded by a spathe. Many people assume the spathe is the actual flower when it is not.
Differences
How do you tell a Monstera deliciosa from a split-leaf Philodendron? Here are easy ways to differentiate these aroids.
1. Leaves
Both plants have simple, deep green glossy leaves. Looking at leaves is the quickest way to tell T. bipinnatifidum from M. deliciosa. Deliciosa leaves are split and fenestrated, while bipinnatifidum has shallowly spit or lobbed.
If you compare the two plants, Swiss cheese plant pinnae go closer to the mid-rib and are smooth, but Tree philodendron splits go only halfway and are wavy.
On leaves arrangement, the Monstera has alternating but due but may adjust since they have geniculum that allows them to move. In contrast, Tree philodendron leaves form a rosette-like pattern or manner (circular arrangement).
Lastly, consider the size. T. bipinnatifidum has a much larger leaf, i.e., it can reach up to 4 feet while deliciosa reach only 3 feet long.
2. Stems size and appearance
Monstera deliciosa has thinner stems, measuring about 0.8 to 3.1 inches (2-8cm) and less woody than Tree philodendron, which may be up to 8 inches in diameter. The bigger size means it can support the plant better.
Besides the stem thickness, the conspicuous eye-drop-like leaf scars on T. bipinnatifidum stem are the other noticeable difference.
3. Flowers and fruits
If you are lucky to get flowers from these two plants, they look different. Swiss cheese plant has white to cream to yellow spathe and white to green inflorescence flowers. On the other hand, Tree philodendron has a purple to reddish spathe and a white flower.
4. Size
Monstera deliciosa can grow much taller in the wild, reaching up to 60 to 70 feet tall. Tree philodendron will only grow up to 15 feet in the wild. But both will spread up to 8 feet wide or more. At home, both these two plants will look smaller.
5. Fruits
Hope Selloum has white to orange to red inedible fruits, while Swiss cheese fruits are greenish and edible.
6. Reproductive maturity
Another difference between these two aroids is reproductive maturity. T. bipinnatifidum will reach maturity after 15 to 20 years, while M. deliciosa will mature about three years.
Thaumatophyllum bipinnatifidum vs. M. deliciosa care and growth needs
Here is a summary of care needs for each of these two plants.
| | | |
| --- | --- | --- |
| | Split-leaf philodendron | Monstera deliciosa |
| USDA hardiness zone | 9 to 11. It can tolerate a frost but not for a long time. | 10b to 12. Freezing temperatures and frost will damage or kill it |
| Light | Bright indirect light but can tolerate deep shade | It grows best under bright, indirect light |
| Humidity | Above average, 70-80%, but can tolerate lower levels. | Average to above-average 50% or more |
| Temperature | 64° to 77° degrees Fahrenheit (18-25°C) | 65 to 85 degrees Fahrenheit(18-29°C) |
| Soil | Provide well-drained soil that is high in organic matter. It cannot tolerate salt or acidic potting mixes. A slightly acidic one is ok | They prefer chunky, well-drained, high organic matter soil. Go for slightly acid to neutral potting mixes. |
| Watering | Water when top few inches feel dry. Mature plants can resist drought. | Water when the top 2-3 inches of your potting mix feel dry. |
These plants have similar feeding, pruning, and repotting needs. Feed once monthly with an all-purpose, balanced, liquid houseplant fertilizer in spring and summer.
Pruning will involve cutting dead, damaged, or diseased leaves with sterilized pruning scissors. Also, you can trim the stems of your Monstera deliciosa to control growth.
Lastly, repotting is after every two years or if rootbound. Younger plants will need more repotting.
Other issues
Pests: Both plants are vulnerable to spider mites, scale, and mealybugs. Monstera may also have thrips or whiteflies, while aphids may attack split-leaf Philodendron.
Disease: Common problem you will have with both plants is root rot. Also, your plant may have fungal and bacterial leaf spots.