Tiger stripe bamboo floorings are bamboo flooring planks made by mixing carbonized or caramelized (darker) and natural (blonde or lighter) bamboo strands to form eye-catching planks with alternating darker and blonde patterns.
The alternating darker and lighter pattern creates a tiger-stripes-like appearance, hence the tigerstripe or tiger stripe name. Sometimes, you may hear of the word Tigris bamboo flooring, the term Tigris means 'tiger' in greek.
Kindly note that tiger bamboo (Phyllostachys nigra 'Boryana'), whose canes have a brown and green spot, has nothing to do with tiger stripe bamboo flooring. Don't confuse the two.
Finally, the exact pattern you achieve depends on the ratio or percentage of natural to caramelized strands mixed with more color being one a higher number. For instance, you may get a 3:1 ratio of carbonized to natural, meaning the natural strips will be narrower.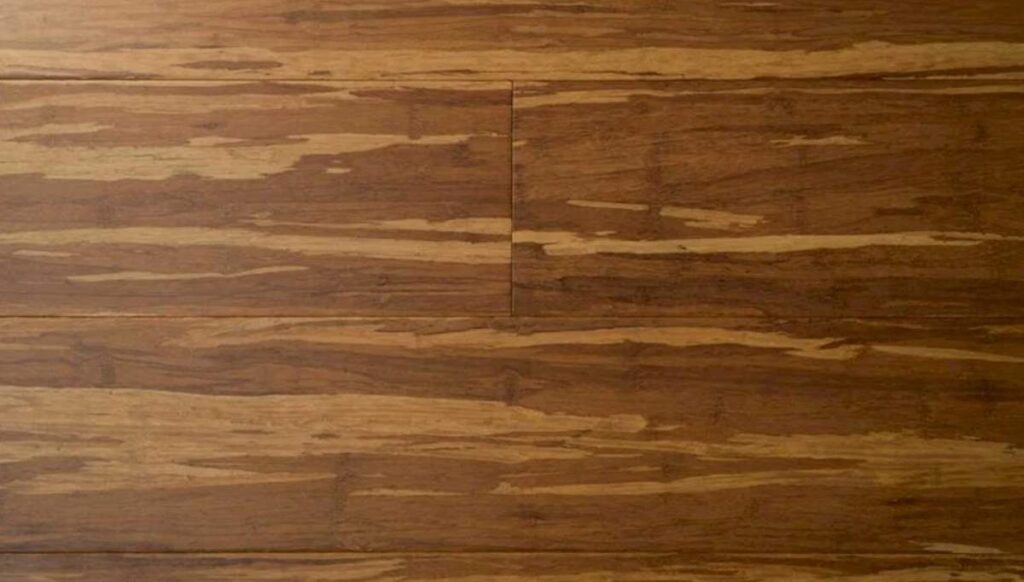 Best tigerstripe bamboo flooring reviews
Nothing will give your home a unique and striking appearance to your home like a tigerstripe bamboo floor. It has both darker and lighter stripes.
Let us now see the best two tiger stripe bamboo flooring reviews:
1. Ambient Tiger Strand Bamboo Flooring wide plank (T&G)
Ambient Solid Strand Tiger Bamboo Flooring wide planks should be your first choice if you want a unique, gorgeous plank incorporating light and dark shades in a single plank. It will look great with most contemporary home décor and will stand above the rest.
These solid strand-woven planks are kids, kitchen and pet-friendly, radiant heat safe, and suitable for places with high traffic. Also, it is 24-hour spill protection, FSC-certified, and Lacey Act Compliant.
While rarely necessary, you can refinish these bamboo flooring planks at least twice. Isn't that something to put a smile on your face?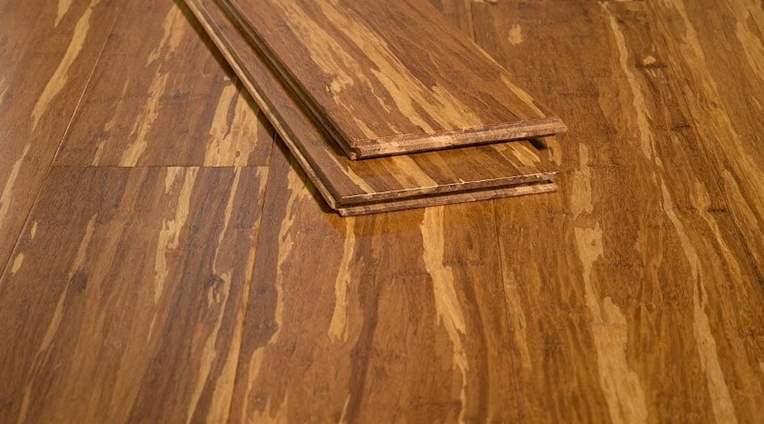 Specs
Dimensions: 6 ft (1850 mm) length x 5-⅝ in (142 mm) width x 9/16 in (14 mm) thick
Construction: Solid strand-woven
Janka hardness: Up to 5342
Surface texture: Smooth
Gloss: Matte
Edge style: Micro-bevel
Finish: Accuseal Ultra with aluminum oxide
Indoor quality air certification: FloorScore
Installation profile: Tongue and groove (T&G)
How to install: Nailed down or glued down
Installation level: On and above grade
Warranty: Lifetime structural and finish warranty
Price: $6.72/sq. ft.
These planks require acclimation for at least 72 hours, and if you intend to nail them down, use an 18 ga cleat 1-½″ to 2″. For glue-down, use Ambient's Urethane Wood Floor Adhesive with Vapor/Sound Barrier or any other with a vapor barrier if gluing to cement/concrete subfloors.
2. Honey Tiger Stripe Bamboo Flooring - Home Decorators Collection
Home Decorators Collection Strand-Woven Honey Tigerstripe Engineered Click Bamboo Flooring are excellently engineered bamboo planks to consider intended for residential use.
These strand-woven tiger stripe planks require three days of acclimation. During acclimation time and throughout your floor's lifespan, maintain a relative humidity of 40 and 55 and a temperature of 65 and 75 degrees Fanhreitz.
Finally, you can install bamboo tiger stripe flooring by Home Depot's Home Decorators collection over subfloor radiant heating systems.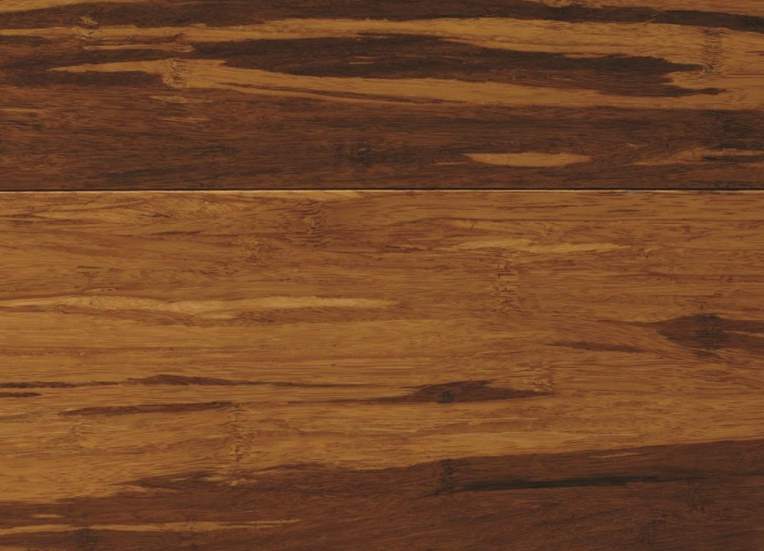 Specs
Dimensions: ⅜″ thick x 5-⅛″ Wide x 72″ long
Construction: Engineered (Hight Density Fiberboard and Strand Woven Bamboo veneer)
Janka hardness/resistance to denting: 4000
Surface texture: Smooth
Gloss: Medium
Edge style: Beveled
Finish: 11-layer aluminum oxide finish
Indoor quality air certification: FloorScore
Installation profile: Click-lock
How to install: Float or glued down
Installation level: On and above grade
Warranty: Limited lifetime residential warranty
Price: $1.62
During installation, you need an underlayment and on acceptable floors that include concrete, wood, OSB or plywood, particle boards (float only), over cock, and some existing floors.
Unfortunately, you cannot refinish these planks. However, that shouldn't worry you since they have a very high Janka hardness and are unlikely to get scratches or dents quickly.
3. Natural Floors Exotic Hardwood 5.12-in Tigris Bamboo Hand-scraped Engineered Hardwood Flooring
While it doesn't have the most classic tiger appearance, Exotic Hardwood 5.12-in Tigris Bamboo Hand-scraped Engineered Hardwood Flooring with a strand-woven bamboo veneer fits in this category.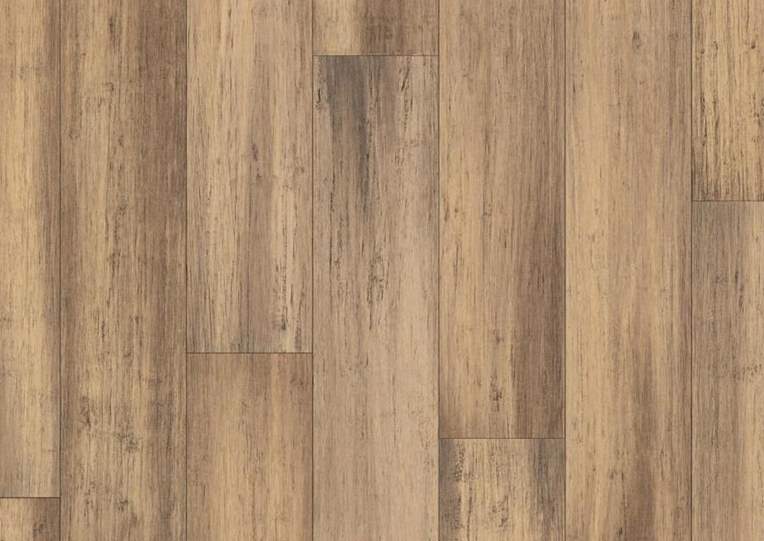 Specs/details
Dimensions: 5.12 inches wide by 0.39 inches thick by 36.02 inches long
Veneer thickness: 0.078 inches
Indoor air quality certification: GreenGuard gold certification
Construction: Engineered
Janka rating: 5 (Janka rating 2501+)
Installation level: Below/On/above
Milling or installation profile: Click-lock
Installation: Float
Coverage: 25.61-sq ft per carton
Surface finish: Hand-scraped with low gloss
intended use: Residential
Warranty: 50 years
Care and maintenance
Since tiger stripe is just a pattern rather than a type, these planks require standard care you give to any other bamboo planks. Always use recommended hardwood cleaning products, offer preventive care.