Monstera aurea refers to the various yellow variegated Monstera plant species whose green leaves may have yellowish steaks, strips, marbling, speckles, splashes, or sectors. Some plants may even have half-moon sectors, i.e., leaves are half green and have yellow.
We will begin by telling you how the yellow variegation occurs. Afterward, you will get insight into the Monstera aurea variegata species like Monstera standleyana aurea, adansonii, deliciosa, or Peru. Then you will learn about care, where to buy, propagation, and much more.
What causes yellow variegation in Monstera aurea?
We know that Monstera albo results in the complete absence of chlorophyll or albinism in the affected areas or sectors. What about the yellow variegation in Monstera aurea?

Secondly, from studies (1, 2), it is known that variegated plants with green/yellow sectors have less chlorophyll, defective chloroplast biogenesis, and very high levels of reactive oxygen species (ROS).
That is not all. Another study notes that "defected chloroplast biogenesis in the yellow sector, reduced chlorophyll content, strong accumulation of carotenoids and high level of ROS."
We can conclude that yellow variegation in aurea comes from defective chloroplast formation, resulting in less chlorophyll. Chloroplasts have chlorophyll and serve as a site for photosynthesis.
These yellow sectors also have a high content of reactive oxygen species (ROS). ROS helps in cell signaling to ensure a normal biological process, but a high level can cause cell damage.
Another possible explanation for the yellow coloration is the accumulation of carotenoids. Carotenoids are responsible for the yellow, orange or gold colors
1. How Monstera aurea occurs
Variegated plants form in different ways, i.e., it may be genetic, natural, pigment, or pattern variegation in calathea lancifolia. Such markings pass through sexual reproduction and are stable.
The others are pathogenic (caused by viral infections), artificial or chemical, reflective or blister, transposon or jumping gene, and chimeral.
What causes variegation in Monstera aurea is a chimera, specifically sectorial chimera. It occurs due to cell mutation on the apical meristem (cell division and growth site).
2. More on sectorial chimera
Plants have meristem tissues in the root or shoot tip (apical), nodes, and other growth axes. These tissues have three layers, L1 (forms epidermis), L2 (forms next layer), L3 (inner layer).
L1 and L2 have a single cell layer that divides sideways, and L3 has several cell layers and divides randomly.
Sectorial chimera happens when a mutation affects a section of the three layers, unlike preclinical, which affects one complete layer, and mericlinal chimera, which affects only a portion of one layer.
Sectorial chimera will result in streaks, marbling, splashes, speckles, or sectors, and it is unstable (can revert to green, or your plant can go yellow).
Monstera aurea plant species
If you are looking to increase your rare plant collection with some Monstera aurea variegata, here are some excellent picks:
1. Monstera deliciosa aurea variegata
Monstera standleyana aurea is an adorable variegated. It has oval to elliptical glossy deep green leaves with yellow variegations. The markings range from speckles to streaks to marbling to half-moon.
If you are interested, you should know that the Monstera standleyana aurea price ranges from $100 to $300, depending on the plant size. Unrooted stem cuttings will cost much lower than rooted or established plants.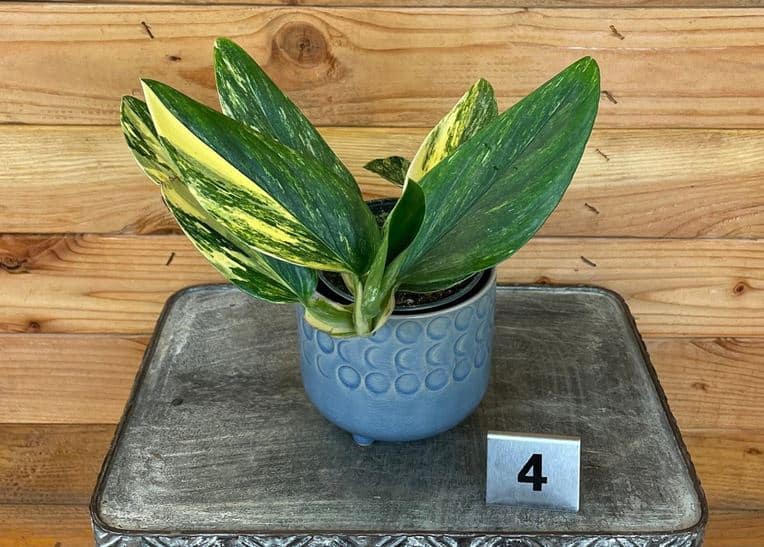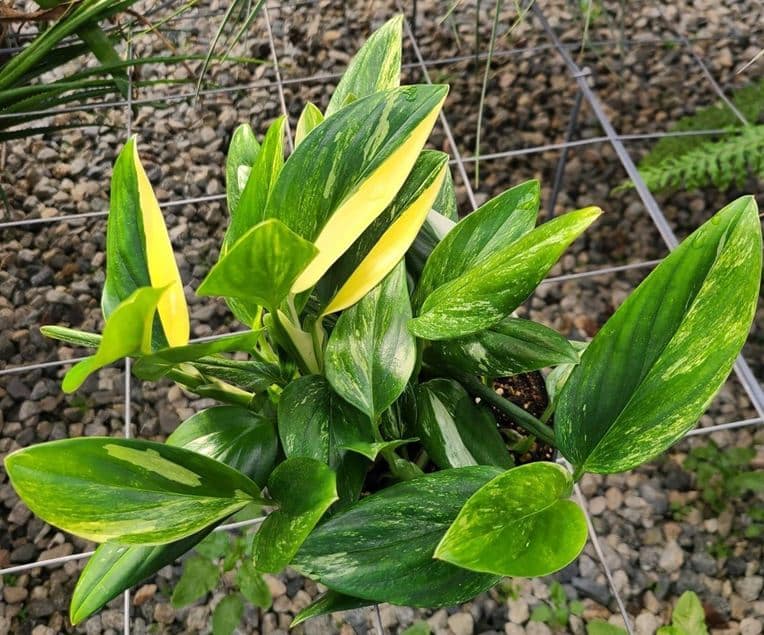 2. Monstera deliciosa aurea
The split and fenestrated glossy, heart-shaped, deep green leaves make M. deliciosa easily the most popular Monstera houseplant. It gets even better with aurea, Thai constellation, and albo borsigiana variegata.
You will find the yellow and Monstera aurea borsigiana golden variegated with green leaves with yellow or golden markings. Like standleyana, the markings may be blotches, streaks, speckles, splashes, marbling, or sectors including half-moon.
Since it is a scarce plant, expect to pay more. M. deliciosa aurea's price ranges from $600 to $4000, and the best place to buy it is Etsy.com.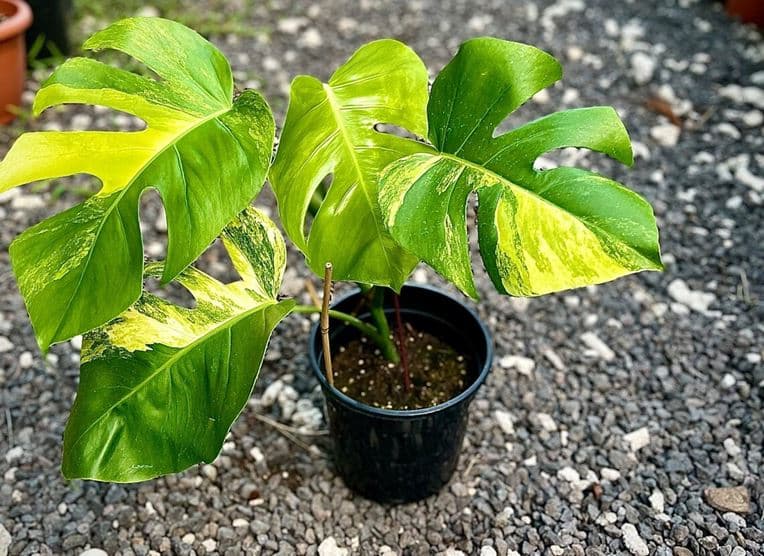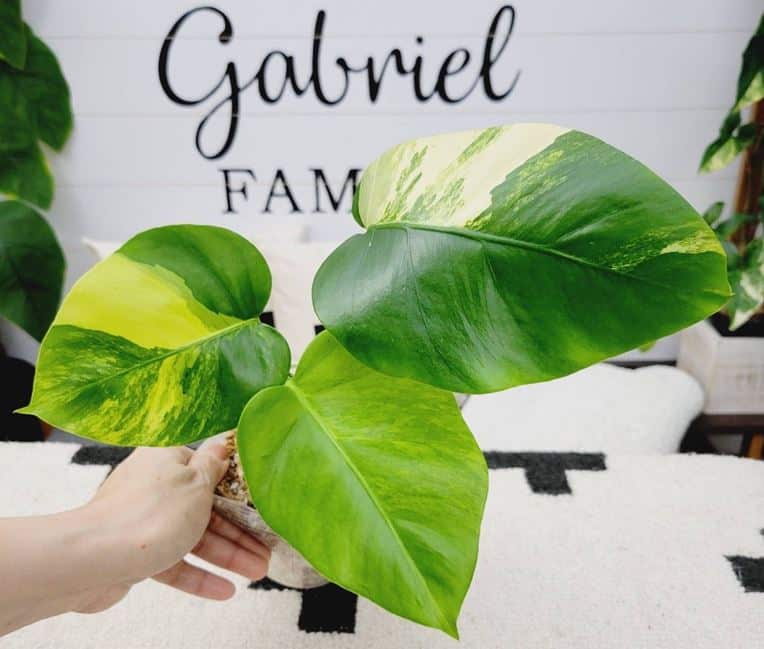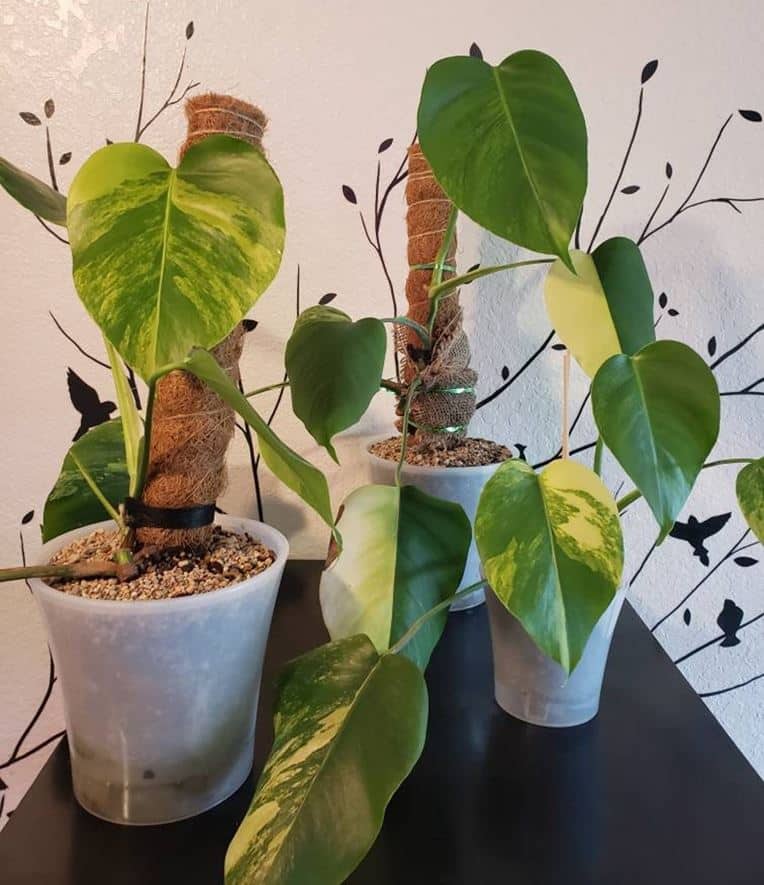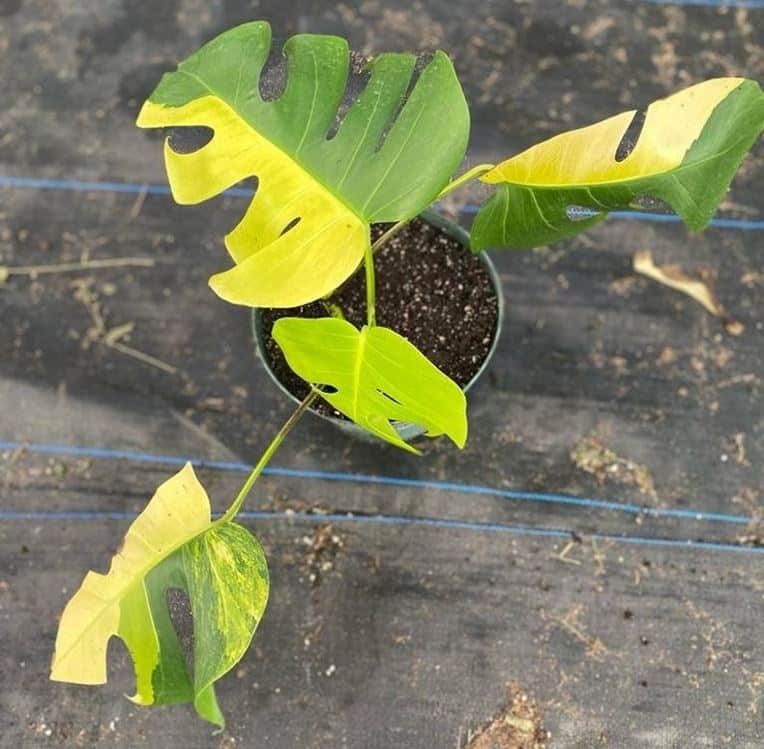 Monstera marmorata vs aurea
Besides these two, there is also a Monstera marmorata with yellowish variegation like aurea. Some people even label them as aura marmorata.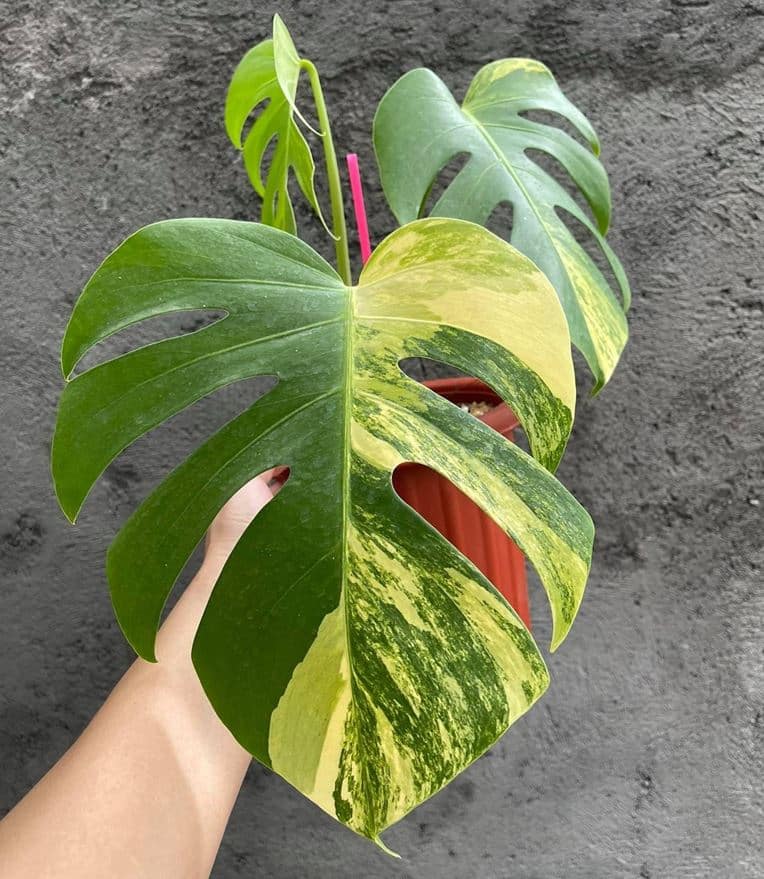 3. Monstera adansonii aurea
Monstera adansonii or the Swiss cheese plant is also a popular houseplant with glossy, green fenestrated leaves. But unlike other M. deliciosa, it doesn't have splits, i.e., the margin is entire.
Monstera adansonii aurea has yellowish variegation. Others M. adansonii variegated plants are albo variegata with cream to white markings and mint Monstera variegata.
How much does it cost? If you want to buy a Monstera adansonii aurea, be ready to spend about $280 to $3000 depending on the plant size. See Etsy.com for the latest prices.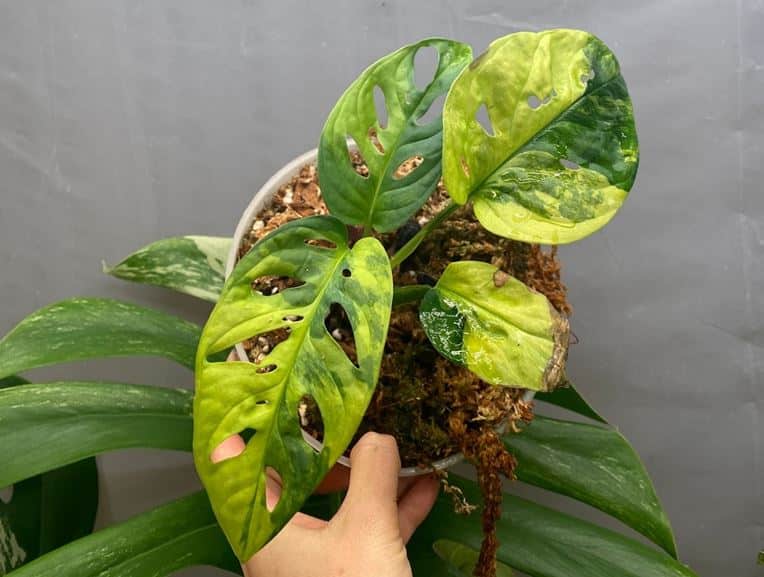 4. Variegated Monstera Peru
If you are looking for a Monstera aurea, we bet you will like yellow Variegated monstera Peru, otherwise known as Monstera Karstenianum Variegata. It is the only species whose leaves don't change when they mature but haven't yet officially been accepted as a Monstera species.
The oval to elongated leaves have yellow variegation and dark and light green markings. You will get those with yellow streaks, marbling, speckles, half-moon, etc. It's a true beauty.
The Peru variegated plant price is $150 to $500 at Etsy.com. It is a rare plant you should buy.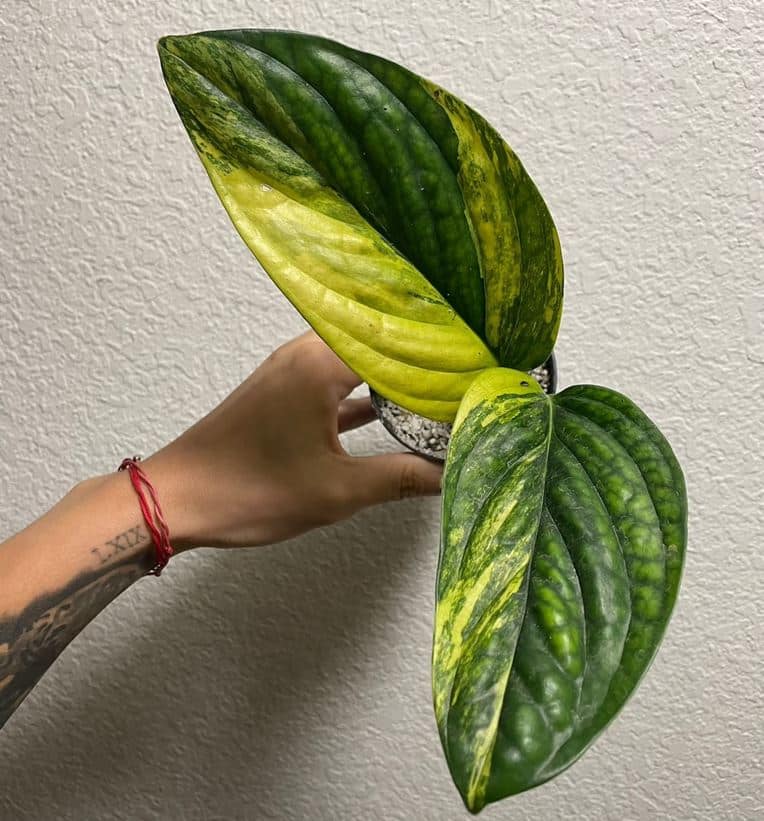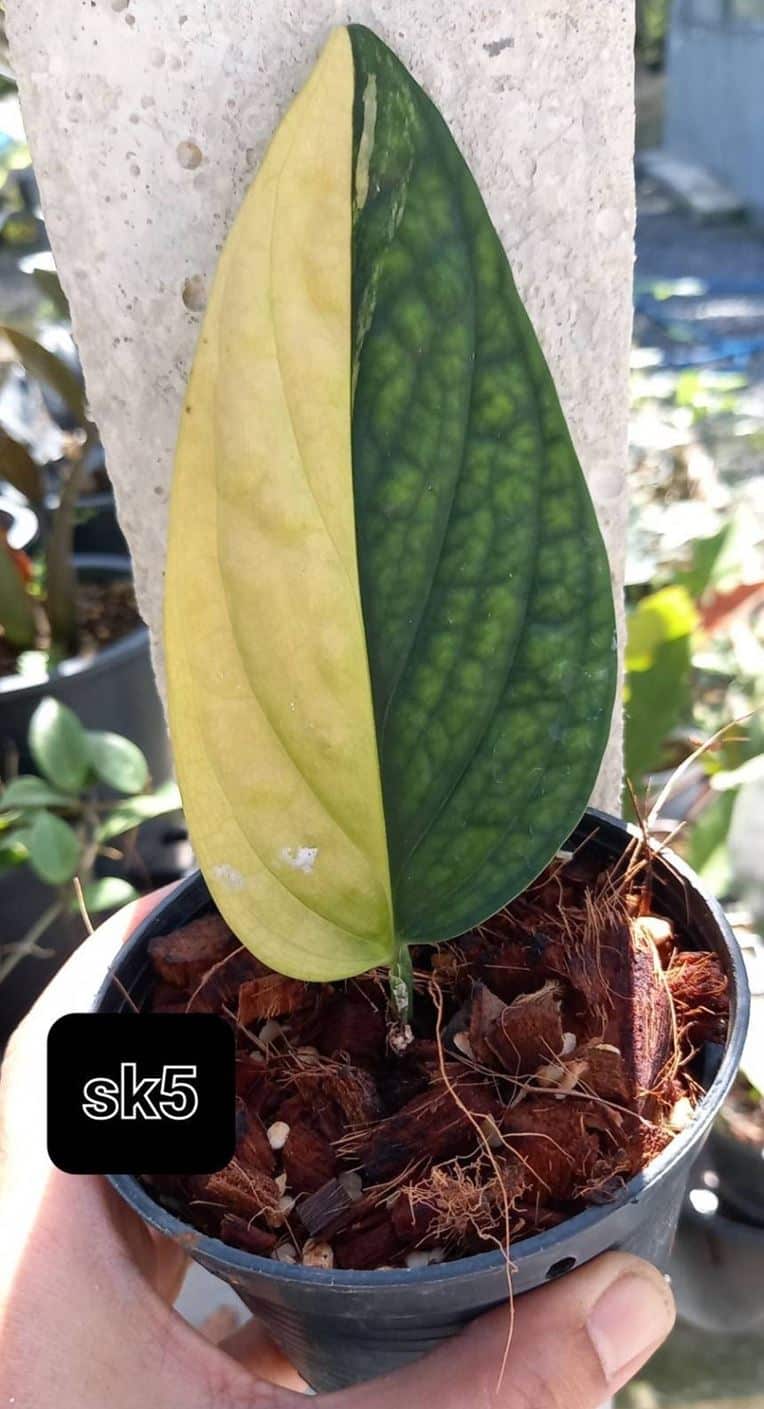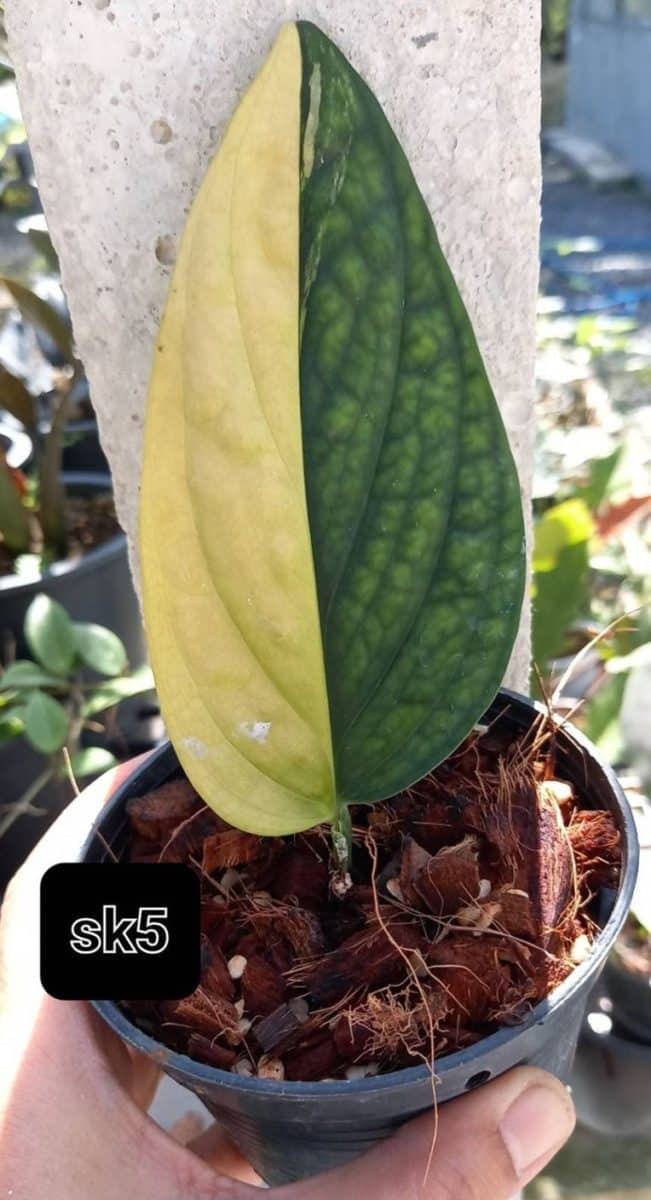 Finding a Monstera aurea on sale
If you need a Monster aurea, we recommend starting with etsy.com and eBay. In these places, you will find people selling this Monstera near you, be it you are in New Zealand, Australia, Canada, the US, the UK, or any other place. Also, some are willing to ship the plant to your location even if you find none.
Social media is the second place to check, especially Facebook plant groups and Instagram. Some rare plant collectors have this variegated Monstera aurea.
The other way is to use search engines, i.e., search 'Monstera aurea for sale' or the exact one you need like 'Monstera standleyana aurea for sale.' It would help if you got some sites and people who have the plant you need.
Lastly, we must make emphasis two things:
Buy from trusted vendors only. Not everyone online is a genuine person. See buyer comments, reviews, etc., to help know if the seller is honest.
See the actual plant and ensure it has a node with a variegated leaf. Remember, variegated plants do revert, and getting a stem cutting from the reverted section won't give you a variegated plant.
Monstera aurea care
If you have any of the aurea or yellow variegated Monstera, care isn't any different from any other Monstera species. Here are basic care needs:
USDA hardiness zone: 10b to 12. They are not cold-hardy, and freezing temperatures will damage the plants.
Temperature: 65 to 85 degrees Fahrenheit (18-29°C). Lower temperature slows growth. At 50°F, they stop growing. Also, avoid cold drafts, heat stress, or sudden temperature change.
Humidity: Provide them with at least 50% humidity. If your home has lower humidity, consider a pebble tray, humidifier like AquaOasis™ Cool Mist Humidifier, misting your plants, among other ways to raise humidity.
Best soil: Provide them with a chunky, well-drained potting mix high in organic matter. It should have a slightly acidic to neutral pH. See Etsy.com.
Watering: Water when the top 2-3 inches of the soil feels dry. Don't follow a schedule and slowly saturate the soil when watering until excess water flows from drainage holes.
Best fertilizer and feeding: Feed your plants with all-purpose, balanced liquid houseplant fertilizer once a month in the growing season (spring or summer) only. We use Miracle-Gro Indoor Plant Food (Liquid).
Pruning and grooming: Regularly cut dead, damaged, or diseased leaves with sterilized pruning shears and clean leaves. You can cut a few stems in spring or summer to control growth, size, and shape.
Repotting: Repot your plant after 1 to 2 years or if rootbound. Use 2-3 inches larger pot and do it in spring or summer unless necessary.
Support or staking: While not mandatory, we recommend giving your Monstera a moss pole, trellis, or somewhere to climb. It will have more significant split or fenestrate leaves this way.  
Propagation
If you want to propagate Monstera aurea, you can use stem cuttings only in water or soil. Air layering is also ok. But seeds will not have a variegated plant since the cell mutation responsible for the markings doesn't pass through sexual reproduction.
And as you know, you cannot propagate any Monstera with roots or stems without a node.
Last but not least, if you want a variegated plant, you must pick a node with a variegated leaf. The stem will also have some aurea markings.
Pests, diseases, and other issues
Issues your Monstera aurea may have include diseases, especially root rot, pests, or problems like curling, yellow, brown, black leaves.
1. Diseases
Your plant may have fungal or bacterial leaf spot disease, rusts, or blights. But they are not expected if you practice proper sanitation and isolate new plants.
Many people will have Monstera root rot due to overwatering your plants or contamination. Ensure you allow the soil to dry in-between watering. Your potting mix drains, your pot has holes, and treat your plants in case of root decay.
2. Pests
Regularly check your plants for pests (mealybugs, thrips, spider mites, scale insects, or whiteflies). And if you see any use insecticidal soaps, horticultural oil sprays, or neem oil to control them.
You will see those bumps or spots like bugs that may move or not. Their signs include honeydew, sooty mold, spots (brown, black, white, or yellow), etc. But the exact ones will depend on the bug your plant has.
3. Other issues
Besides pests and diseases, the other widespread issues are:
FAQs
Will Monstera aurea revert?
Yes. Since it happens due to unstable sectorial chimera, your plant may revert to green or even become entirely yellow. To prevent it, trim any stem that reverts, just after the last aurea variegated leaf. Also, provide ideal growing conditions.
Why are Monstera aurea expensive?
Monstera aurea variegata plants are expensive since these yellow variegated Monsteras are rare (not many people have them). Also, they grow slowly, making mass production time-consuming.