To help you understand your plant better, here is Monstera in the wild pictures and description. It will help you know how your Monstera plant looks in the wild or natural habitat.
We have the 7 Monstera in the wild including popular and rare species like Monstera obliqua, deliciosa, lechleriana, etc.
About Monstera
Monstera is a genus of over 45 hemiepiphyte plant species native to tropical America and surrounding islands. Hemiepiphytes are plants with two growth phases, i.e., one as a terrestrial plant (growing on ground) and two as an epiphyte (growing on host plants).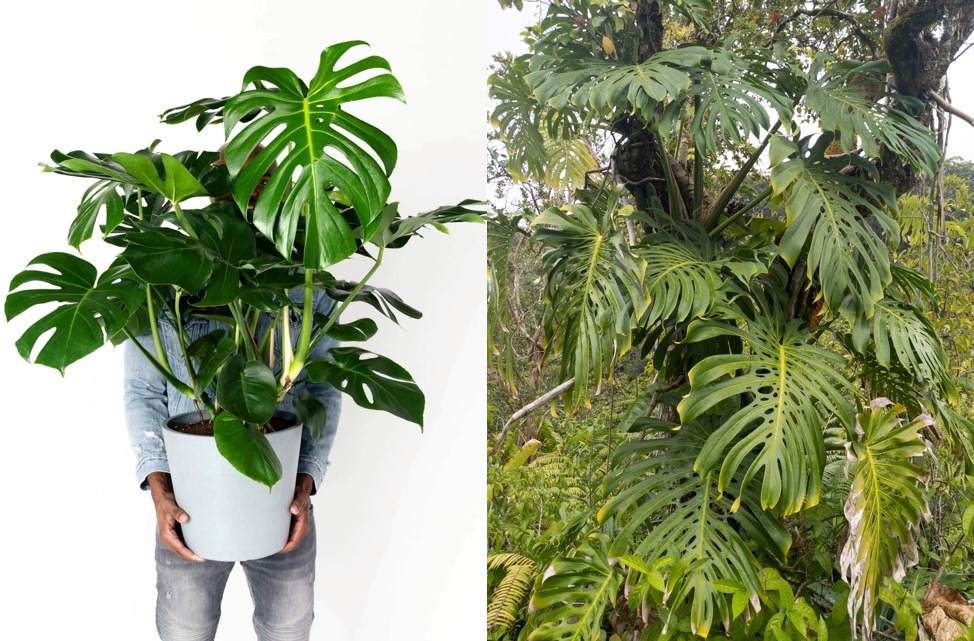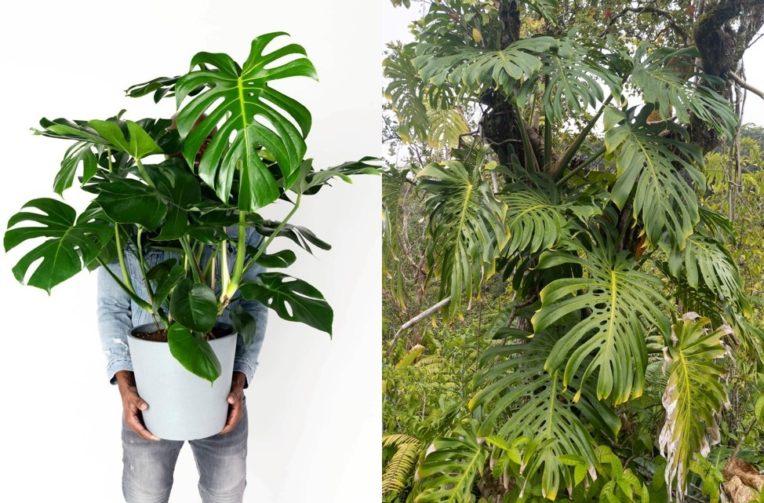 Monstera grows as a terrestrial creeper and climber in the seedling and juvenile stage and as an epiphyte mature plant except for M. deliciosa that can mature as a terrestrial plant. Depending on the species, it takes about 1.5 to 8 years to reach maturity (start flowering and bearing fruits).
The name Monstera is Latin, meaning abnormal or monstrous, referring to the fenestrations or holes that develop as it matures. But not all species have these holes. Also, some species leaves split while others have an entire margin.
Last but not least, Monstera flowers are borne on a spadix and surrounded by a spathe. These plants will only flower when they attain maturity. And most will only mature if they have a place to climb.
Monstera in the wild
You probably have seen the various Monstera houseplant. Have you ever wondered how they look in the wild? Let us look at what each looks like in their natural habitat.
1. Monstera deliciosa in the wild
M. deliciosa (Swiss cheese plant, split-leaf philodendron, ceriman, or Mexican breadfruit) is the most popular Monstera houseplant native to southern Mexico to Panama.
Everyone loves it for its heart-shaped deep green leaves that split and fenestrated as it matures. Its fruits are also edible but must first ripen fully.
M. deliciosa has several varieties, including var. borsigiana, var. sierrana, var. Brazil, etc. Also, there are variegated forms like the Thai constellation and albo borsigiana.
This plant will sprawl or grow like a vine in the wild, depending on the variety. Leaves will be split leaves and have a series of 1-5 elliptical holes, while flowers will be white to greenish and the spathe white to cream.
Last but not least, the fruits are green or bluish-green fruits with hexagonal scales like covering. When it ripens, scales will rise and start falling. Also, it will have a short-lived sweet aroma.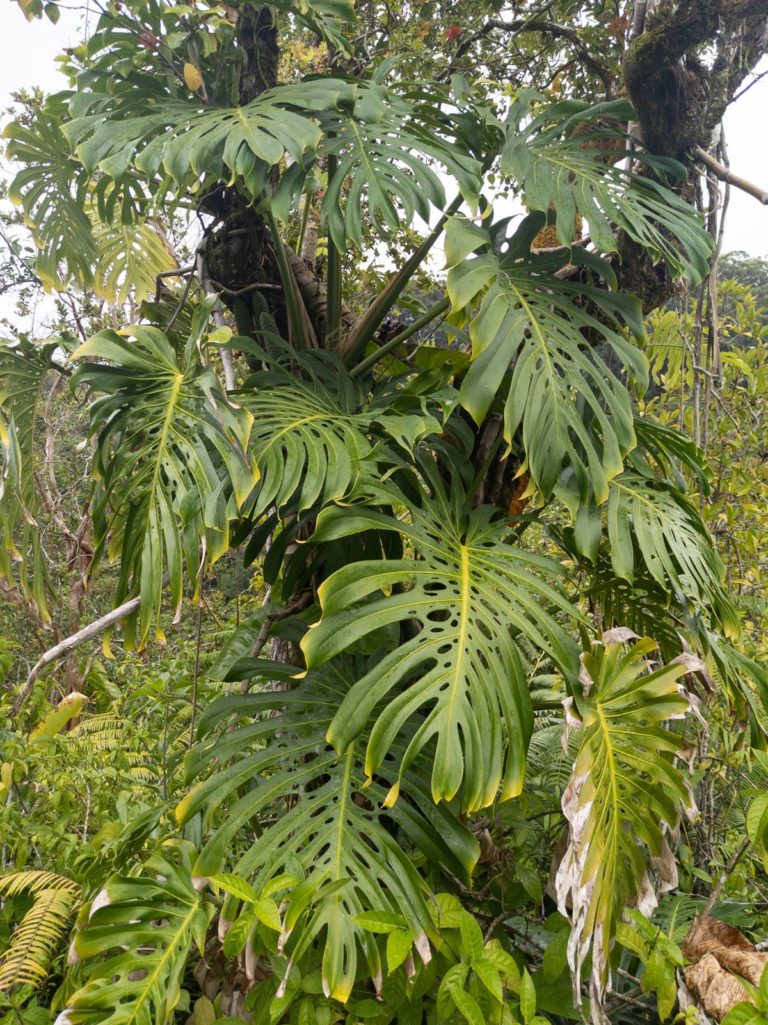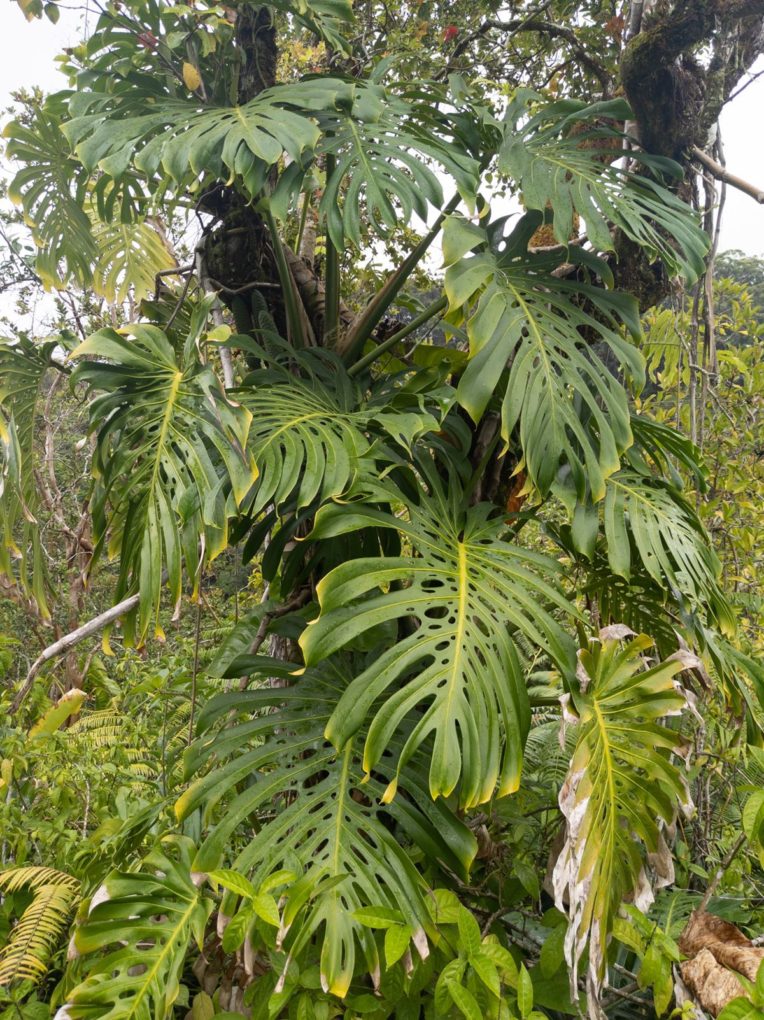 2. Monstera adansonii
M. adansonii (Monkey Mask Monstera, five-hole plant, or Swiss-cheese plant) is another popular houseplant. It also has several varieties, notable being ones being Monstera adansonii var laniata and subs. blanchetii.
Besides varieties, there are narrow and wide forms and variegated Monsteras like albo, aurea, and mint.
In the wild, juvenile plants will oval to elliptical, entire leaves but start growing holes very early. Mature plants will have larger leaves with 1 or 2 holes, but some may not have, and the margin will remain entire.
Flowers will depend on the variety and maybe cream to yellow to orange shades, while the spathe will be cream to pale yellow and may have a green tinge.
This relatively smaller Monstera can grow up to 20 feet, and the fruits will be greenish at anthesis but turn to yellow then deep yellow when ripe.
Where does it occur? M. adansonii is widespread in tropical Central and South America plus surrounding islands.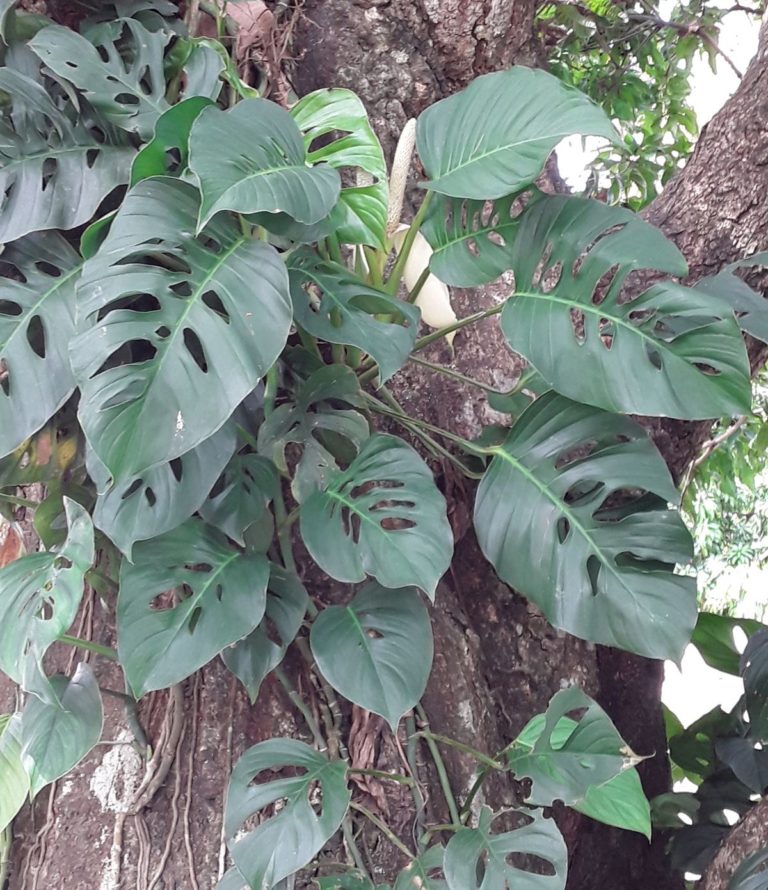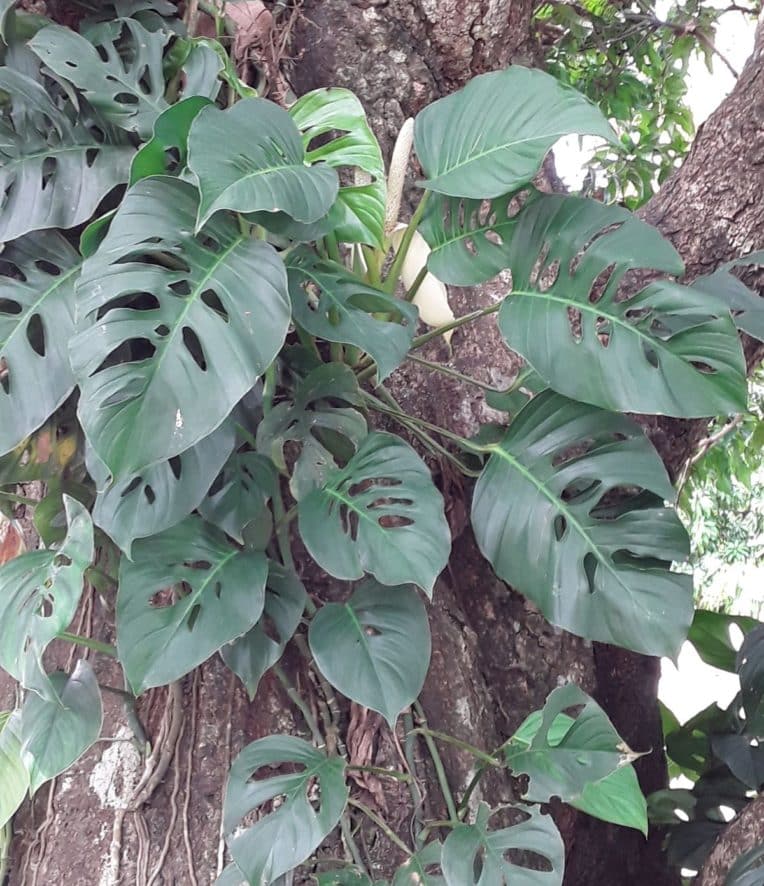 3. Monstera obliqua in the wild
Often described as the unicorn of houseplants, M. obliqua (Swiss cheese plant) is rare and expensive. It grows up to 4 to 16 feet, making it a smaller species.
M. obliqua will have deep green to emerald, lance-shaped to oval leaves with entire margins. Mature leaves will have hardly any holes to many elliptical holes that go close to the midrib.
Unlike other species, it will have a cluster of 6 to 8 spadices with deep yellow flowers surrounded by green to white spathe that turns bright yellow when the flowers mature. The fruiting spadix is olive-green to green after anthesis but turns deep orange when fruits ripen.
4. Monstera siltepecana
Monstera siltepecana is a popular houseplant, thanks to the bluish-green leaves with a silvery shimmer and darker markings on veins. When it matures, it tremendously transforms, losing the silvery shimmer.
To identify this Monstera plant in the wild, look at the leaves and flowers. It will have large fenestrated leaves with a series of 2 -4 holes on each side midrib, but the margin will remain entire.
The inflorescent flowers are white, the spathe is white on the outer side, rose-red on the inner surface, and the fruiting spadix is deep green.
Where do they occur in the wild? Mainly Belize, Guatemala, El Salvador, Honduras, and Mexico. But they do occur in other parts of the neotropics.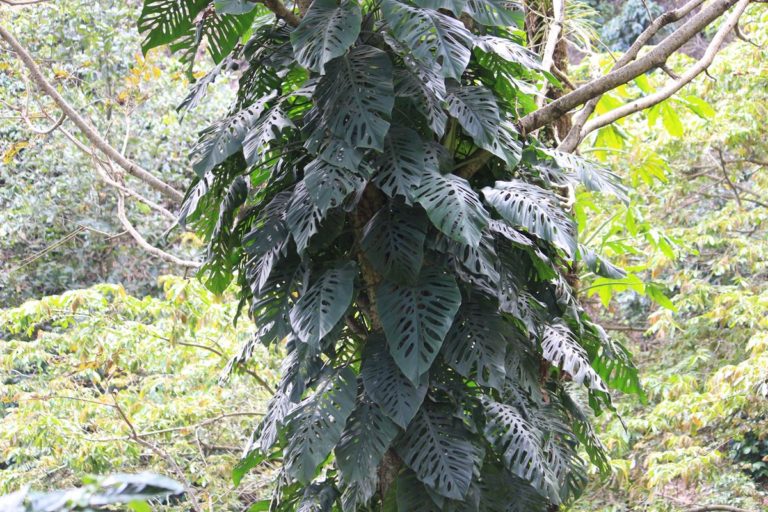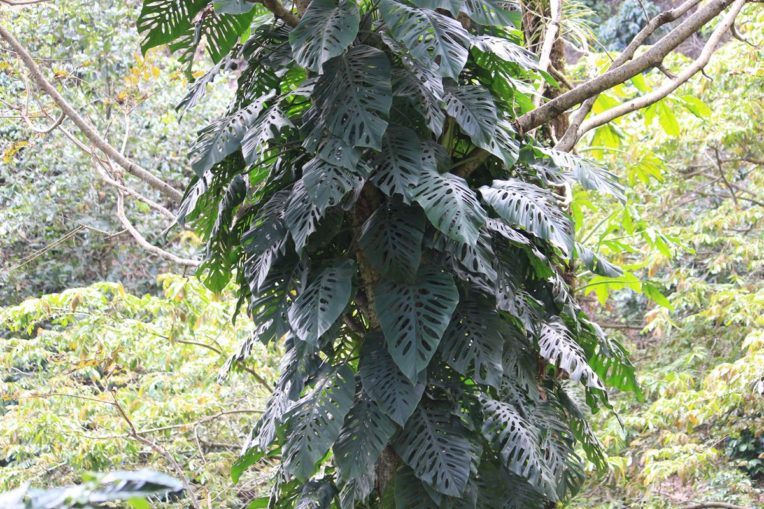 5. Monstera dubia in the wild
The other fascinating Monstera species you are surprised to see in the wild is Monstera dubia.
Forget about the juvenile shingling heart-shaped leaves with silvery markings. Mature M. dubia will have dull-green large leaves with holes and splits. But the margin will be entire, and they will droop or hang and not shingle.
Flowers are white, and the spathe is rose to salmon on the outer side and whitish on the inner side, while fruits are yellowish.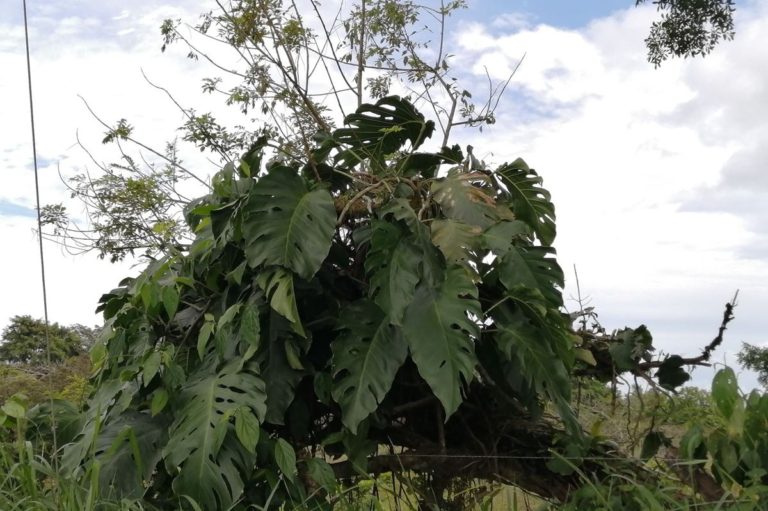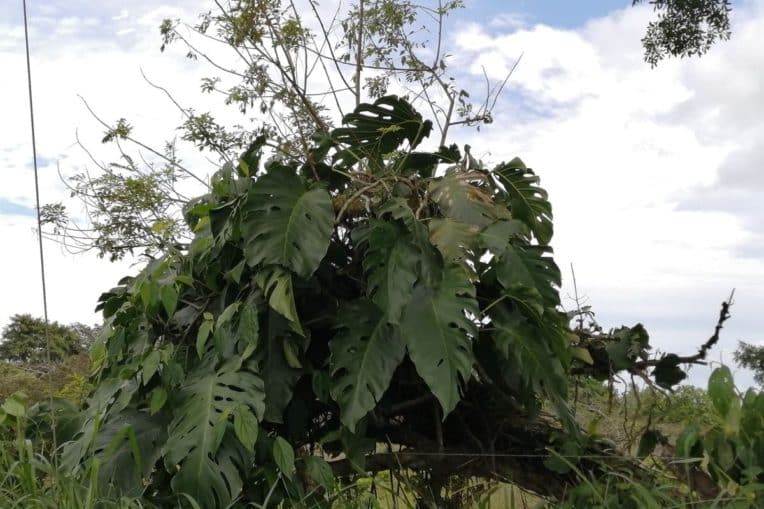 6. Monstera lechleriana
The glossy green oval to lance-shaped leaves born on a tight-head cluster of 10-15 flowers makes M. lechleriana a charm.
It will have large oval-shaped leaves with one series of elliptical holes on either side of the midrib as it matures. Sometimes, the holes may lack, and the plant has entire margins.
M. lechleriana flowers are cream to pale yellow, white to pale yellow spathe while the fruits will be cream to medium yellow.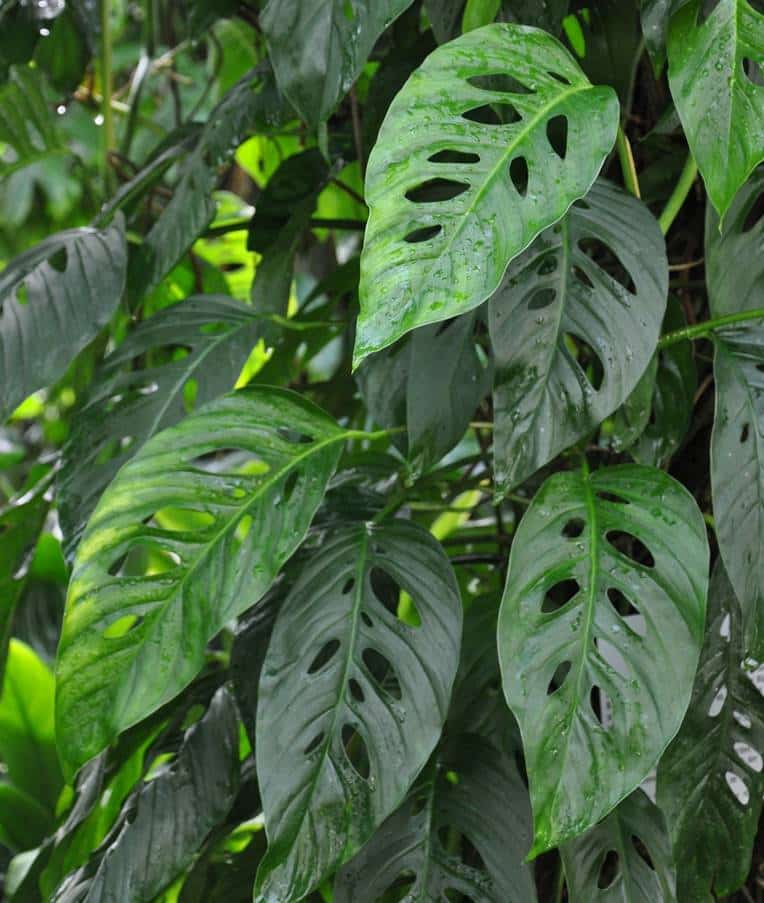 7. Monstera standleyana
M. standleyana is undoubtedly a popular houseplant, especially the Monstera albo and aurea variegata. It has adorable, oval to elliptical glossy green leaves that look stunning.
In the wild, mature M. standleyana will have larger, oval leaves without holes, shifting from what we know if Monstera species. But at times they have holes.
These plants will only mature when at least 6-26 feet from the ground, have yellow to white flowers surrounded by a cream to white spathe.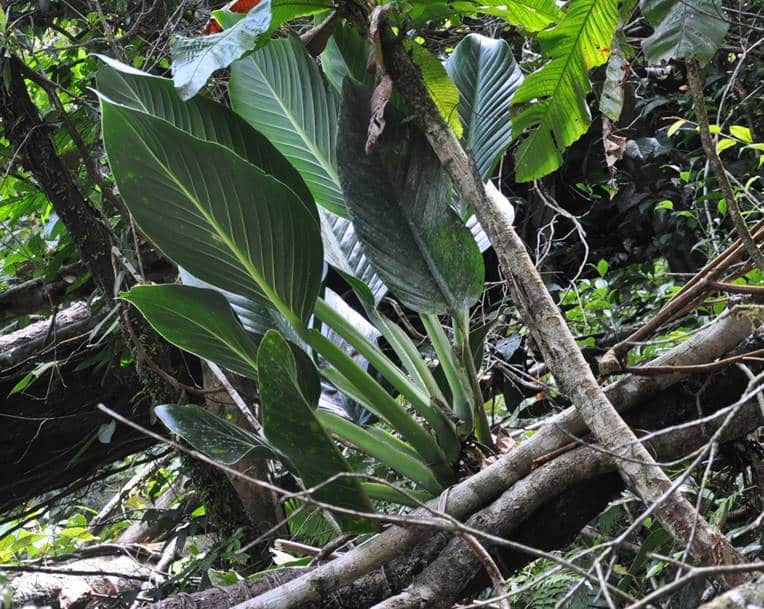 Are you surprised?
We guess seeing some of your favorite Monstera plants in the wild may have surprised you. Kindly note that there might be a small coloration difference due to things such as sunlight exposure or image. But it shouldn't be impossible to identify these plants if you saw them in the wild.