While looking at bamboo floors and dogs, we intend to assess the suitability of bamboo flooring for dogs regarding various aspects like scratches, dog urine, drools, and other messes. Is this flooring suitable for dogs or not?
We will also look at maintaining bamboo floors if you have dogs to ensure durability, minimize any damage these pets may cause, and give you alternative flooring options.
Are bamboo floors good for dogs?
Yes. Bamboo floors are good for dogs and other pets and rank above cork floors, making them the best option for you to love something woody. Of course, carpet and hardwoods are a no-go zone for people with these pets unless you go for the hardest hardwoods, which will be expensive.
Irrespective of whether you have a bulldog, labrador retriever, german shepherd, beagle, poodle, or a chihuahua, it should hold very well.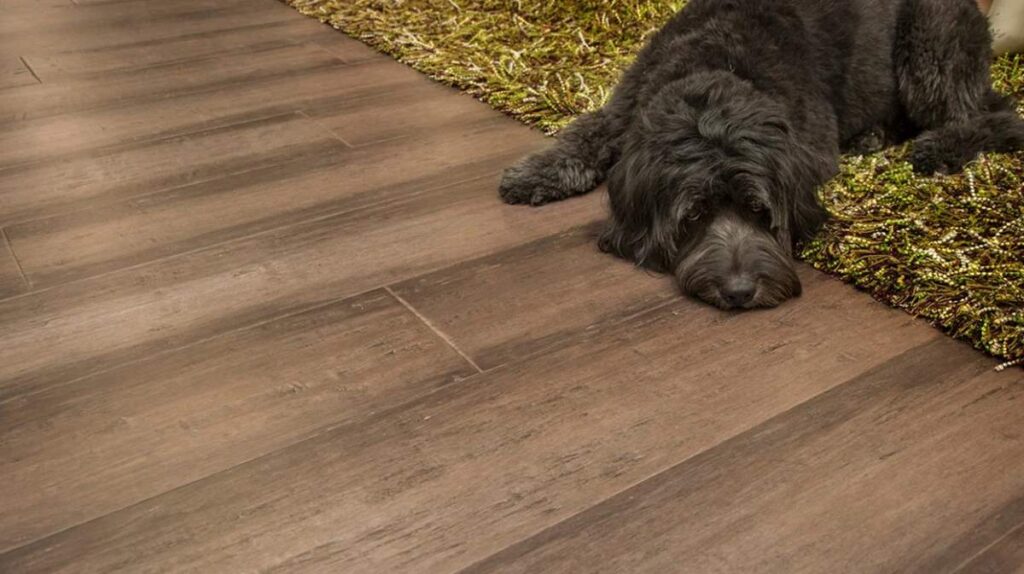 a). The good
Some of the reasons why you should consider bamboo floors if you have dogs and pets include the following:
They are eco-friendly (environment friendly), low-maintenance, great-looking (come in different grain patterns, colors, and surface textures and look like hardwoods), and add value to properties.
Well-manufactured, especially strand-woven bamboo planks, are so durable and scratch-resistant. They are harder than most hardwoods used in floors such as Ipe or Brazilian walnut. Some strand-woven planks have a Janka hardness that is as high as 4000-6000. Such can resist scratches from your dogs.
They are comfortable for you and your dogs to walk on. i.e., they are warm and soft to their paws and don't get so cold during winter. Also, you will get options you can use with radiant heating systems for extra comfort.
Water-resistant. Compared to hardwood, bamboo floors resist water better, with most brands can withstand spills, puddles, or up to 20 hours. Don't worry about dog urine so long as you dry it timely.
They are also versatile, with some planks such as the SPC and engineered bamboo planks installable on all levels and in most rooms, including offices, conservatories, kitchen, basement, laundry rooms, or even bathrooms.
Some bamboo floors can be refinished, making them a good choice if your dog loves scratching the floor. Once the scratches become so visible, just sand, stain, and reseal. They will be as good as new.
Bamboo naturally resists or repel mildew, mold, or infestation by insects such as termites.
Any planks certified by either FloorScore or GreenGuard Gold for indoor air quality are safe for not just you but also your dogs.  
b). The bad
All those pros seem, you need to know that bamboo floors do have their problems that include the following:
Cheap and poorly made planks scratches, dent, and ding easily. Also, horizontal and vertical bamboo planks have a lower Janka hardness rating of about 1400, meaning they will get scratches and dents quickly.
Remember, bamboo is a type of grass, and like any other organic product, including wood. Note that bamboo floors are not waterproof but resist water better.
It is susceptible to temperature and humidity changes. These changes may cause cupping, buckling, shrinking (gaps), swelling, and so on.
These planks may emit harmful VOCs from the adhesives used during manufacture.
Bamboo flooring and dog urine
You know the good and bad when it comes to bamboo floors and dogs. It is time to address the issue of bamboo flooring and dog urine or pee. Sometimes, you may also leave drools or slobbers.
If your dog urinates on the floor, let your vet help you know if he has urinary tract issues, incontinence and health problems, aging, or behavioral issues (marking especially by males). It shouldn't happen unless your pouch is untrained well or you have a puppy requiring potty training.
For whatever reason, should your dog urinate on your bamboo floor, here is what you should do:
a). Dry the urine
Immediately dry the urine using an absorbent piece of cloth, mop, or towel. Don't let the urine stand on the floor for a long time. Immediate drying should be the same case with any other spillages. Therefore, routinely check for any urine on the floor.
Leaving urine for a long time may seep through the joints on your floor and cause water damage.
b). Clean the spot
Once the urine is soaked, use any good hardwood floor cleaner to clean the area. Unless the manufacturer says otherwise, we recommend Bona Pro Hardwood Floor Cleaner & Bona Pro Hardwood Mop. Follow the instructions provided.
Usually, you will lightly mist the area with a stain and mist your Microfiber Mop or a soft piece of cloth and use it to clean the area.
However, some brands may recommend specific products to use. For instance, Terragen recommends TrueClean Wood, Bamboo & LVT Cleaner.
Additionally, some manufacturers may recommend using distilled water or a mixture of distilled water and rubbing alcohol (isopropyl alcohol). Ensure you slightly dampen the piece of cloth and use it to wipe the area.
If you used rubbing alcohol, you have to use another clean cloth afterward, slightly dampened with distilled water to remove any residue.
c). Don't
Never use any products to control dog urine odor on your bamboo floors unless authorized by the manufacturer.
Never steam mop or wet mop.
Don't use oil soaps, detergents, ammonia-based cleaners, vinegar or any other acidic product, abrasive products, or any other cleaning products unless allowed by your manufacturer, including those with citrus oil, tung oil, lemon oil, or silicone.
Dog poop
Besides urine, another thing you may have to deal with is poop. While it may not cause water damage, it will leave marks, and you don't want dog poop in your house.
We recommend picking any poop. And if you use a poop scooper, ensure you don't use one that may scratch your floors such as one made with plastic.
Afterward, you can spot-clean just as you do in urine to remove any remaining poop marks.
Protect from poop and urine
Besides clearing and cleaning any urine and poop, you need to have preventive measures. Buy a dog potty.
Once you have it, ensure you also get a substrate that will help absorb any urine and ensure it doesn't smell.
Alternatively, you can also buy the puppy pee training pads, especially as you potty train your puppy.  
My dog scratches on bamboo floors
Besides urine and poop, another issue that may arise is scratching. The scratching can occur unintentionally as your pouch runs or plays fetch.
At times, your dog may scratch on bamboo floors, their bed, or other things, including at night, for different reasons that include territory marking, boredom (they lack enough stimulation), entertainment, anxiety, as an instinct, and so on.
Don't worry about scratches. Excellent quality bamboo floorings are resistant to dog scratches or dents, and they are unlikely to cause permanent marks or scratches. Most markings will disappear as you clean the floor, and many testimonials confirm this fact.
However, if your dog keeps scratching your bamboo floor, here are some of the things that may help:
Regularly clip or trim your dog's nails. Long nails may be a reason why your floors end up with scratches as your pup run or play.
Manage any behavioral problem. i.e., deal with what makes these pets anxious, bored, or end up with this habit. Enlist an expert if you are not sure why.
Buy a dog bed for extra comfort and give them a place to sleep. They will spend more time on their bed and minimize floor scratching.
Consider having a dog crate and train them to use it. It will help this pet to feel safer, and control it when you cannot supervise it, among other benefits.
What else can help?
Besides the above ways, people with dogs need to adhere to the following guidelines:
Place a suitable mat beneath your dog's food and water bowls to ensure they trap any water or food spillages. These rugs will minimize the chances of your floors being dirty. However, ensure they are breathable and have a suitable backing.
Cover the areas frequented by pups with area rugs.
Have doormats at entrances to collect any debris, water, grit, or dirt you or your dog may carry to the house. They contribute scratches and dirt.
Best bamboo flooring for dogs – strand-woven
If you are looking for the best bamboo flooring for dogs, buy strand woven bamboo planks from some top manufacturers. Why? You may want to know. The answer is simple, strand-woven bamboo is the hardest option available in the market.
Besides picking stranded bamboo planks, you also need to choose an excellent quality since timely harvesting and manufacturing processes have a bearing on the planks' hardness. Also, ensure the planks are pet-friendly.
Some of the best bamboo flooring for dogs include the following:
Cali Bamboo – Janka rating is 3393-5407.
Ambient bamboo flooring – Janka rating as high as 5342
Teragren XCORA – Janka hardness rating: 3354
LifeProof Bamboo Flooring – Janka hardness rating/dent resistance: 3000
Home Legend bamboo flooring except for Horizontal toast – Janka rating: 3000
This part marks the issue of strand-woven bamboo flooring and dogs. Let us now give you something small on alternative flooring for people with these pets.
Alternative best flooring for dogs and other pets
You know the ins and outs of bamboo floors and dogs, including dog urine, scratches, and how to deal with these issues. It is time to look at alternative flooring options you may opt for if you have these and other pets.
1. Vinyl
Vinyl is the best floor for dogs because it is easy to clean, affordable, and resists staining and scratches. That is not all, vinyl isn't noisy, looks like wood or stone, is comfortable to paws, and you will find waterproof and/or water-resistant options.
Also, although vinyl offers enough traction, you can opt for skid-resistant vinyl if you have an old or so active pouch, and it works with radiant heating systems.
However, with heavy usage, vinyl may get dull sooner. It is also less eco-friendly for those who care about the environment and may not raise your property value.
2. Tile
For people with super active dogs, tiles will be an excellent choice as they are durable, easy to clean, maintain, stain, and scratch-resistant. Don't worry about spills or urine, as tiles are waterproof.
Unfortunately, the tiles are cold (suitable for a warm climate), noisy, and not comfortable for your dog's feet (they are hard). Also, they can be slippery for paws. However, going for textured with grout will provide the needed grip for your pets as you place fetch inside your living room.
3. Laminate
People who love bamboo or hardwood will find laminate the best alternative. We bet that laminate is one of the best floorings for dogs in such a case. It is charming, durable, easy to clean, resists stains, and doesn't show scratches easily.
Also, you can go for heated laminate if you leave it in cold places to ensure it is comfortable.
However, a bamboo vs. laminate analysis shows that laminate isn't as durable, especially if you have giant and super active dogs.
Additionally, it is slippery unless you opt for textured or scraped laminate, and you may require noise-resistant laminate (expensive) if you have large pouches or those that play a lot as it can be noisy.
4. Cork
Cork is the most comfortable and pet-friendly flooring that will be comfortable to their paws and provide the warmth they need. Also, cork is water, mold, and mildew resistant (has a natural anti-microbial), looks gorgeous, absorbs sound, and doesn't require much maintenance.
However, on the downside, cork is vulnerable to scratches, not waterproof, and discolors if exposed to sunlight.