HAWA Bamboo & Wood Products Corp. began manufacturing sustainably harvested and competitively priced bamboo flooring in 1993 to reduce dependency on dwindling timber resources. However, over time, they diversified to making other flooring types, including wood, WPC, SPC, luxury vinyl.
They have a state-of-the-art modern manufacturing plant in Chenzhou, China, and a distribution center at Sayreville, New Jersey, in the USA to ensure their distribution networks fulfill orders quickly.
Hawa bamboo flooring trading company ensures all their products meet the strict US building standards and are a member of both the National Floor Covering Association (NWFA) and the World Floor Covering Association (WFCA).
Hawa bamboo flooring products
Hawa uses Moso bamboo to make various solid and engineered bamboo flooring products. Each of these planks has:
Micro-beveled edge style
An aluminum oxide finish
1. Solid horizontal and vertical matte – natural and carbonized
Hawa Bamboo has solid natural and carbonized prefinished and unfinished vertical and horizontal bamboo planks. They also have two black-stained bamboo planks (one horizontal distressed and the other one has a smooth surface).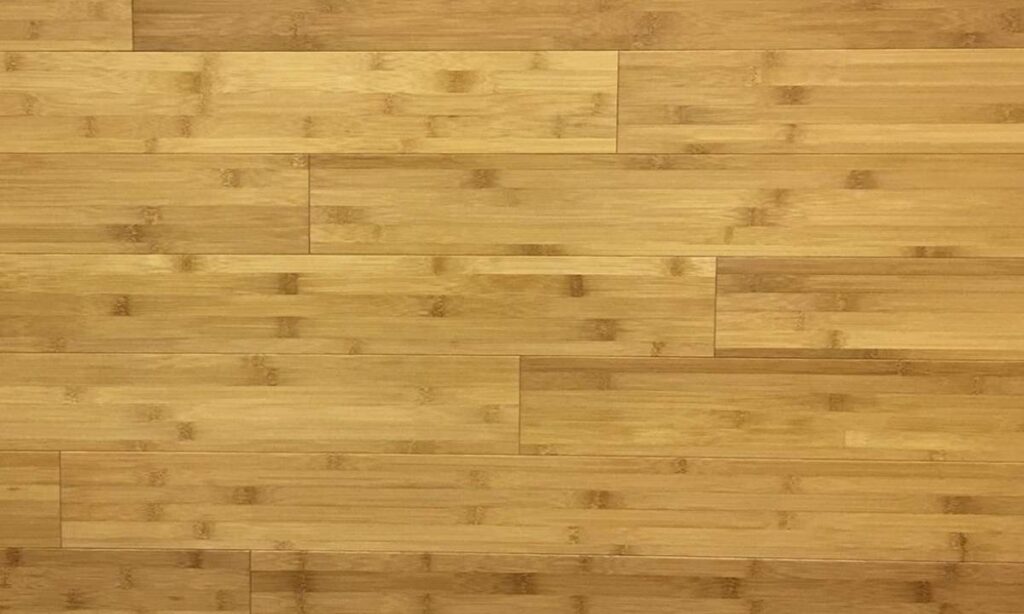 Depending on which one you choose, these solid bamboo planks are either long (75-¾ inches) or short (37-⅞ inches) but have the same width and thickness.
Specs
Plank dimensions: 3-¾" (96mm) Width x 37-⅞" (960) or 75-¾" (1920mm) Length x ⅝" (15mm) Thickness
Square feet per carton: 23.8
Janka hardness: 1380 (natural) and 1180 (carbonized)
Joint/installation profile: Tongue and Groove
installation: Float/glue
2. Solid strand-woven click lock – natural and carbonized
DIYers will find these two strand-woven bamboo clicks lock planks (carbonized and natural) an excellent pick as they are easier to install.
Specs
Dimension: 3-⅝" (92mm) x 36-¼" (920mm) x ⅜" (10mm) (Width x Length x Thickness)
Janka hardness: 3000
Installation level: On/above ground level
Installation: lock and fold
Finish Warranty: 50-Year Residential
Square feet per carton: 18.22
Strand Woven Bamboo Flooring T & G
There are four solid strand-woven planks with a T&G joint (cocoa bean, walnut, carbonized, and natural).
Specs
Janka hardness: 3000
Installation level: On/above ground level
Installation: Nail/glue
Finish Warranty: 50-Year Residential
Dimension: 3-⅝" (92mm) Width x 36-¼" (920mm) Length x ⅜" (10mm) for natural and carbonized while cocoa bean and walnut has 5-¼" (132mm) Width x 72-⅞" (1850mm) Length x 9/16" (14mm) Thickness.
Square feet per carton: 18.22 (natural and carbonized), 21.03 (walnut and cocoa bean)
3. Engineered bamboo
Hawa four engineered bamboo planks, i.e., two natural (vertical and horizontal) and two carbonized (vertical and horizontal) planks.
Specs
Dimension: 5-⅜" (136mm) x 74" (1880mm) x ⅝" (15mm) (Width x Length x Thickness)
Janka hardness: 1180 (carbonized) or 1380 (non-carbonized)
Joint/installation profile: T&G
Installation level: Below/On/Above ground level
Installation: Staple, nail, glue, float
Finish Warranty: 25-Year Residential
4. Moldings and accessories
During installation, you need various bamboo moldings and accessories which Hawa sells. They include the T-molding, baby threshold, overlap reducer, quarter round, and air vent (natural horizontal and carbonized horizontal). Others are wall base, stair nosing, raiser, stair treads, border, and border corner block.
Before installation, ensure you acclimate them for at least two days and pre-drill them, if necessary, as this will reduce the chances of damages.
Pricing or cost
Hawa bamboo flooring price or cost ranges from $3.53-$4.29 per square foot (Floorbros.com and Fastfloors.com). As expected, the strand-woven and engineered planks are slightly expensive than horizontal or vertical.
However, these prices greatly vary with some vendors, such as qualityflooring4less.com, offering a lower price slightly.
Additionally, these costs don't include professional installation with a national average of $2-$5 per square foot.
Finally, compared to other brands in the market, we feel Home Depot's Home Decorators Collection, Lumber Liquidators, Floor and Décor, Style Selections, Natural Floors by USFloors, among others, are a more affordable but superior choice.
Installation
All Hawa bamboo flooring planks except engineered are intended for on or above grade level installation. Engineered planks are suitable for all levels, including below grade (basement).
The installation method depends on which joint type the specific plank you buy has. You can nail down or glue the solid strand-woven T&G or the solid horizontal and vertical planks.
On the other hand, install the solid strand-woven plank with click lock by lock and fold, while for the engineered planks, you can nail, glue, staple, or float (apply glue on the joints).
For radiant heated subfloor, only buy the engineered blocks and ensure you float them. Don't nail or glue them.
Hawa bamboo planks require acclimation at 60º to 70º F temperature and humidity at 30% to 50%. Keep these conditions during acclimation, at least for 48 hours for planks less than 3-⅝-inch wide and a week if broader.
Finally, ensure you use the recommended adhesives, nails, staples and follow the given installation guide.
Routine care and maintenance
Ensure proper bamboo floor care that includes maintaining adequate humidity (30-50%), drying spillage, using the right bamboo or hardwood cleaning products.
Ensure you use no wax, soap, oil-soap detergents, abrasive, corrosive, harsh, alkaline, or acidic cleaning agents, including bleach.
Also, don't wet mop, polish, or buff the floors, and avoid shoes with cleats, including spiked golf shoes or stiletto heels.
Finally, protect your floors from furniture with furniture pads or felt pads, trip your pet's nails, and use rollers when moving any heavy furniture, use doormats, and so on.
During dry climates, consider investing in a humidifier, and when the humidity goes very high, use a dehumidifier if you don't have air conditions. People with HVAC shouldn't worry so long as they set the humidity and temperature.
Limited warranty
HAWA Bamboo & Wood Products Corp. offers a limited 25-year residential and a 3-year commercial finish warranty. This warranty doesn't cover improper use, installation, care, maintenance, damage, or any other defect associated that dint result from manufacturing defects.
However, Hawa permits professional sanding and refinishing done according to procedures laid by National Wood Flooring Association or by (NOFMA) only to the original buyer.
If within the warranty period, Hawa will repair (recoat, refinish, furnish or fill your floor) at local market repair costs, replace it, or refund portion of the damaged floor if unrepairable.
Finally, they don't warranty the use of their flooring in bathrooms with a bath tub, sink, or shower.
Pros
Some of the things we liked about Hawa bamboo or pros include the following:
a). Superior finish
Hawa uses an 8-coat aluminum oxide/polyurethane finish sourced from Treffert Coatings to minimize scratches and dents. A polyurethane-only finish doesn't last as long as what they use.
Remember, bamboo flooring isn't scratch-resistant. However, if well-made, strand-woven planks resist scratches better than most hardwoods.
b). Low Formaldehyde adhesives
Hawa uses adhesives with very low formaldehyde to ensure quality indoor air that surpasses the OSHA, CARB Phase 1, and CARB Phase 2 requirements.
c). Inventory in the USA
With their Sayreville, New Jersey distribution center and an inventory in the US, Hawa delivers their products much faster, unlike some manufacturers who take 12-16 weeks.
d). Warranty
You will receive a 25-year residential and 3-year commercial finish warranty, evidence of the superiority of their planks and finish.
Cons
Despite all the good things we have said about Hawa bamboo flooring, it is worthwhile noting a few things we didn't like that include:
a). No indoor quality certification
While they claim their floorings have low formaldehyde emissions, they don't have any indoor quality certification such as FloorScore or GreenGuard. Such a certificate would confirm the safety of their floorings.
b). Lacks variety
Hawa has limited bamboo plank varieties as well as surface textures and colors (stained planks). For instance, they don't have any engineered strand-woven bamboo or SPC (stone polymer/plastic composite.
Additionally, they have limited textured surface finishes such as aged, hand-scraped, wire-brushed, and so on.
c). Pricey vs. quality
Hawa Bamboo planks are competitively priced. However, looking at what other manufacturers offer, we find their price slightly higher when considering what they offer.
We understand that the irks of Cali Bamboo, Ambient BP, or Teragren have more expensive planks. However, they do offer superior bamboo flooring.
Verdict
Without a doubt, their long operation history is evidence that Hawa Bamboo Products is an excellent pick. First, however, they need an indoor quality certification, provide variety and improve their distribution network.
Most major home improvement stores such as Lowe's, Home Depot, Menards, Ace Hardware, and True Value don't have their products.
Also, their prices are a little on the higher side. We didn't find other vendors having better prices, but their inventory didn't seem up to date.