Herringbone bamboo flooring is the most popular bamboo parquet floorings that get its name from a herring because the floors resemble the bones of a fish. The others common patterns are chevron, basketweave, random, checkered boards, brick bonds, etc.
If you want to create a herringbone bamboo flooring pattern, lay bamboo parquet blocks diagonally, with every two adjacent parallel columns having blocks sloping in opposite directions.
To do so, in every two adjacent parallel rows or columns, you stagger the blocks diagonally with their edge (width) meeting the longer side at 90 degrees, creating a diagonal broken zigzag pattern.
Finally, the planks used are shorter and narrower, and their length-to-width ratio cannot be even. Typically, this ratio will be at least 2:1.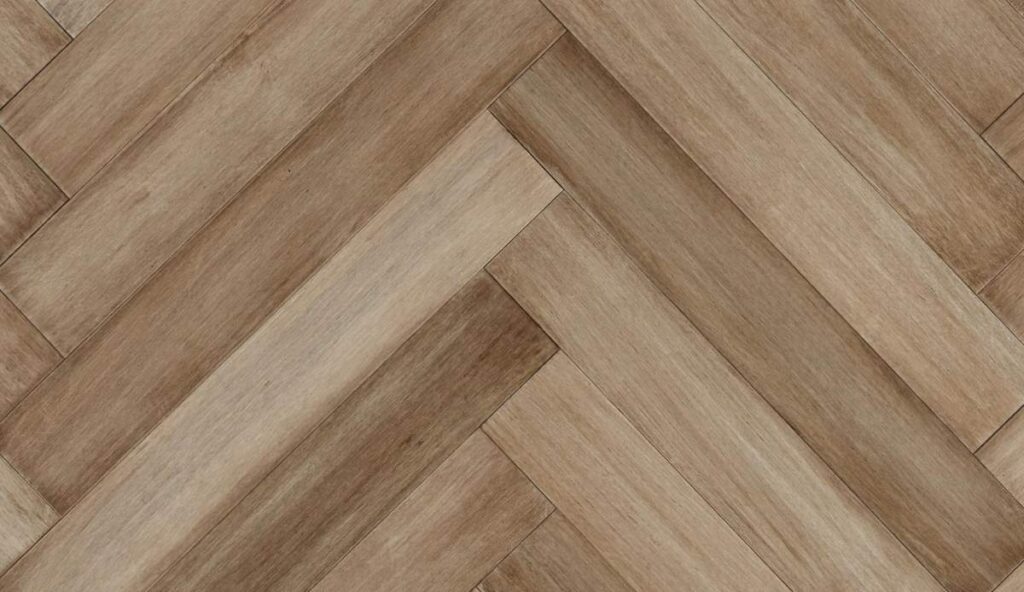 More
Like any other bamboo flooring, herringbone planks may be solid or engineered, horizontal or vertical, carbonized or natural.
Additionally, you will find prefinished and unfinished planks, and they may be stained or bleached.
Most engineered planks come with a click-lock profile, while solid planks have a tongue and groove installation profile. However, some solid bamboo flooring may have a click-lock system.
Finally, they can have various surface textures (distressed, hand-scraped, wire-brushed, smooth, antiqued, distressed, etc.) and different edge styles (micro-bevel, beveled, etc.).
Pros
What are some of the things we like about herringbone bamboo flooring?
a). Unique, beautiful, and bold style
Herringbone is the most popular parquet flooring because it creates a unique, beautiful, and bold style. Therefore, it is something you need to consider if you don't want the typical flooring styles.
The fish-bone patterns are exquisitely elegant and will reminisce the mid-century or 1960s modern style that is still classy up to date.
b). You can refinish these floors
Depending on the planks you choose, it is possible to refinish them, especially if you opt for solid bamboo planks. Also, you can refinish some engineered bamboo flooring too. However, ensure you first check to be sure the specific bamboo flooring can be refinished.
c). May raise your property value
For a fact, herringbone and, by extension, all parquet bamboo flooring is slightly expensive to install. However, on the brighter side, herringbone floors are likely to increase your property value. Many people associate them with palaces and famous buildings.
Cons
Some of the things we don't like about herringbone, most of which also apply to other parquet floors, are:
a). Cumbersome and expensive to install
Unless you are an expert, herringbone or any parquet floors aren't for you. Layering is cumbersome since you will have so many small rows, and you must ensure they all are in line or parallel rows. Any mistake you make will be obvious.
Typical prices of herringbone bamboo flooring is $3-$6 per quare feet. This cost doesnt include installation prices.
If you opt for an expert, he is going to charge you a higher installation cost or rate, i.e., you may pay anything from $3-$10 per square foot, while the average national installation for other bamboo flooring is $2-$5
b). Difficult to refinish
Since these floors have smaller blocks arranged in different directions, sanding may be challenging during the refinishing process.
Usually, sanding happens along the grain to prevent cross-sign marks, which will be very difficult since blocks are in the opposite direction.
c). Not ideal for moist areas
The numerous small jointed blocks are not ideal for use in higher humidity or area exposed to water.
Why? You may wonder. The answer is simple. The many joints will increase the possibility of water seeping through them.
Therefore, they are not the best to use the bathroom, kitchen, basement (below grade), and so on, unless allowed by the manufacturer. Yes, bamboo resists moisture better, but not waterproof.
d). Not everyone loves herringbone flooring
Despite being unique, some people find them dated and less appealing, especially those who prefer modern flooring types.
e). Not readily available
Herringbone or any parquet blocks are not readily available. Most manufacturers don't have them, perhaps because they are not so popular or for other reasons.
Reviews
As already indicated, herringbone bamboo floorings are not readily available. However, you can find them. However, we were lucky to find a few brands which are as follows:
1. Floor and Décor
Floor and Décor's Eco Forest bamboo flooring has three herringbone planks, two solid stranded and one engineered stranded.
All three have an aluminum oxide finish, require glue/nail/staple installation. You can install these planks over cork underlayment, and they are for floor only.
The solid-stranded planks carry a 40-year residential warranty and a GreenGuard Gold indoor air quality certification. These two bamboo planks don't require acclimation, and have a 4-sided micro-bevel edge. However, they need an underlayment.
On the other hand, the engineered plank has a plywood core, a 35-year residential. It requires a 24 hours acclimation, a FloorScore indoor air quality certification, and you only need a vapor barrier.
Additional details are as follows:
| | | |
| --- | --- | --- |
| Name (dimensions) | Shade, color, and gloss | Price per ft. sq |
| Axis Herringbone Hand Scraped Engineered Stranded Bamboo (½″ T x 3-¾″ W x 23.62″ L) | High variation, multi-color with a low gloss finish | $3.89 |
| Bonsika Herringbone Distressed Solid Stranded Bamboo (⅜″ T x 3-½″ W x 23.62″ L) | High variation brown with a matte | $3.49 |
| Garupa Herringbone Distressed Solid Stranded Bamboo (½″ T x 3-½″ W x 23.62″ L) | Medium brown matte | $3.49 |
2. Bamboo Flooring Company (UK)
People in the UK can buy any of the Bamboo Flooring Company's strand-woven parquet flooring, which are Solid Stone Grey, Natural, Carbonized, and Chestnut Strand Woven 90mm Parquet Block BONA Coated Bamboo Flooring
They all measure 12mm Thickness by 90mm width by 450 mm Length, have a tongue and groove installation profile, a 4-sided micro-bevel edge, and require 48 hours acclimation.
Also, they carry a 25-year structural warranty and a Bona Lifetime Support, are ideal for commercial or residential use, and have a Matt Bona Naturale Anti-Slip lacquer, Inc UV protection finish.
If you prefer those with a smooth finish, go for the Solid natural or carbonized as the other two have a distressed surface texture.
Finally, their prices are £31.66 per m² ($4.11per ft sq), exclusive of value-added tax (VAT).